Elon Musk bought out Twitter last month, and since then it has been a ridiculous ride.
He has thrown many tantrums since then, which have affected a lot of lives.
• He fired almost half of the Twitter workforce;
• Threatened the other half to work long, grueling, thankless hours or get fired;
• Forced remote workers to return to desks or suffer the same fate; and,
• Saw hate speech and mis- and disinformation rising on Twitter and did nothing.
But that's not all.
On Nov 19, he did something that we all feared he might do, but were hoping he'd be decent and sane enough not to.
Alas, no. On Saturday, he launched a poll on Twitter, asking its users whether Donald Trump should be allowed back on Twitter or not. Donald Trump, the same guy who incited thousands of his followers to commit violence on January 6, 2021.
In the poll, the majority voted in favor, and like a villainous resurrection, Donald Trump's Twitter account was alive again.
Horror, I know, but nothing we didn't see coming.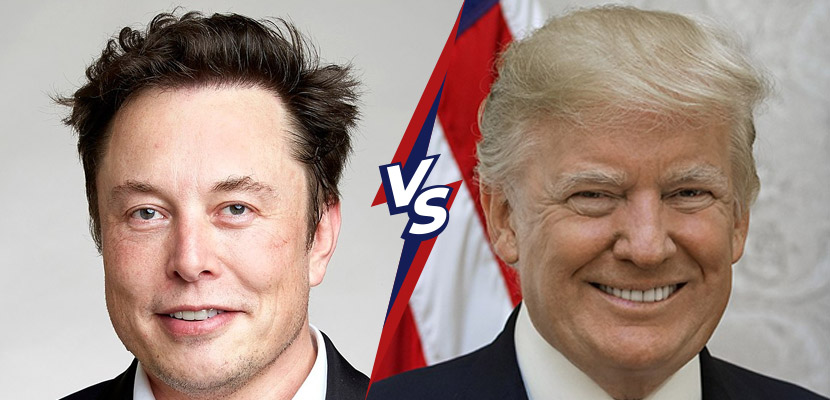 Source: Wikipedia
Elon Musk and Donald Trump have got a weird relationship. On paper, they shouldn't be best friends. Their core beliefs do not match. Elon Musk is an environmental evangelist and Trump thinks climate change is a hoax.
Yet, they were the best of chums back in the day. Supporting each other's causes and celebrating each other's victories.
However, it didn't start that way. In 2016, as the US presidential race was in its most heated phase, Musk threw in his lot with candidate Hilary Clinton. He didn't believe Trump's character reflected all that well on the U.S. He didn't consider him the right guy for the job.
And was always very vocal about his beliefs.
But after his win in the election then-president Trump responded to all that by appointing Musk to be on two of his advisory boards and the relationship found a more solid footing.
Here's the entertaining timeline of their tumultuous relationship.
January 2017: Musk On Trump's Advisory Council
After blasting the guy repeatedly on his Twitter, it was a shock to see him on Trump's advisory board. Here's how Musk defended it.
Being on the advisory board, and Trump's reign in general, helped Musk immensely. While Trump doesn't believe in climate change, he's a big fan of space exploration. During this time as president, he favored ventures and companies, such as Musk's SpaceX, to do exactly that.
In return, Musk held his end of the bargain.
January 2017: Musk supports Trump's Secretary of State nominee, former ExxonMobil CEO
It left his fans confused and seriously affected his eco-friendly street cred.
Later the same year, the budding bromance suffered its first hiccup when Trump announced to pull America out of the Paris Agreement. It didn't sit well with Elon Musk who wants the global economy to run on clean energy. The guy has an EV company to run, after all.
June 2017: Musk Cuts Ties From The White House
The temperamental billionaire could not sit on his hands while another excitable billionaire undid his years of work. So, Musk jumped ship.
But this didn't seem to rattle the president. Apparently, the two remained on good terms. Musk even learned to trash talk people online, Trump-style.
Dec 2017: Musk Began Calling People Names Online
He called a British diver 'pedo' when he criticized Musk's mini-submarine technology. Later, he called another expert idiot in response to his online criticism.
January 2020: Trump Hails The 'Genius' That's Elon Musk
While talking to CNBC, Trump made their bromance public by calling Musk 'one of our great geniuses'.
In the interview, Trump also said:
"I spoke to him very recently, and he's also doing the rockets. He likes rockets. And he does good at rockets, too, by the way. I never saw where the engines come down with no wings, no anything, and they're landing. I said I've never seen that before."
May 2020: the two bonded over their refusal to comply with Covid-19 health protocols
In the wake of the global coronavirus pandemic, the entire world had ceased its normal functions to ensure the safety of the masses. The government had declared emergency orders and all but essential activities were asked to be shut down.
Elon Musk made headlines by refusing to follow these orders, and reopened his Fermont, California Tesla factory.
Then-president Trump responded by egging him even further, and showered him with public support. Elon Musk replied with, what I imagine to be a misty-eyed, thank you, complete with an exclamation mark and all.
The factory reopened, workers showed up to work, and the county government took no action. But Musk wasn't done. To show his disapproval at being asked to follow rules like everybody else, he threatened to move his company headquarters from California to another state like Texas or Nevada, and may even shut down the California factory. He said his final decision about the matter would depend on how his company is treated by the state of California in the future.
November 2020: Musk Snubs His Bestie And Votes For Biden In The Presidential Race
In May 2022, while sharing his political leanings online, he admitted to having almost always voted for Democrats.
It wasn't a surprise to learn that he didn't vote for Donald Trump. They weren't really buddy-buddy then. But Trump took offense and called him a "bullshit artist".
But, back on our timeline, we're at the point where the presidential elections are concluded and Biden has been elected to govern the country. But it wasn't that easy.
Trump had refused to accept the election results and his superfans had stormed the US Capitol building. All the while, Trump was using his Twitter account to incite the protestors even more and attempting to sow doubts about the legitimacy of the election results.
For his role in January 6 attacks, an inquiry was launched against him and Twitter banned him from using the platform.
January 2021: Trump Gets Banned From Twitter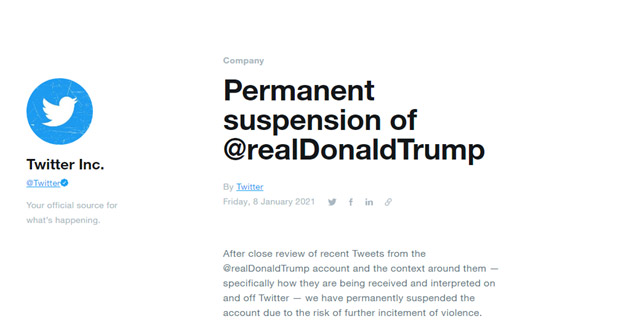 Image Source: Twitter
April 2022: Musk Begins His Twitter Takeover
It was no surprise that Musk wasn't all that happy with Twitter's rigorous content moderation. He wanted everyone to have a voice and a platform via Twitter, and to make this happen, he started the company's buyout process.
By this point, people were getting anxious about him and everyone had concerns about the takeover. Many of them were fearing that the buyout would mean a reinstated Trump account. A few weeks later, he made those fears come true.
May 2022: Musk Says He Would Lift Trump's Twitter Ban
Talking to a Financial Times virtual conference, he expressed his fury about the ban. He called it a mistake, a morally bad decision, and 'foolish to the extreme'.
He said, "I do think that it was not correct to ban Donald Trump. I think that was a mistake because it alienated a large part of the country, and did not ultimately result in Donald Trump not having a voice."
He further said, "If there are tweets that are wrong and bad, those should be either deleted or made invisible, and a suspension—a temporary suspension—is appropriate, but not a permanent ban."
May 2022: "I Won't Be Going Back On Twitter"
Talking to CNBC, Trump expressed his displeasure at how he was treated by Twitter and refused to join the platform again even if the ban was lifted.
He promoted his own social media website, Truth Social, which he said was a really happening place (it's not) and praised Musk immensely.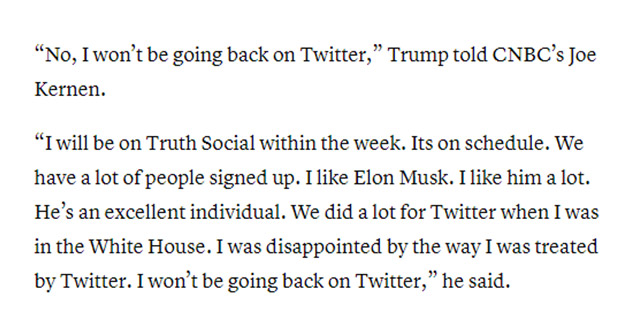 Image Source: CNBC
If you think all is well in the love shack, you haven't been following this mercurial story properly.
June 2022: "First Time I Ever Voted Republican"
Musk angered Trump when he posted this.
Trump replied with this:
July 2022: Musk Is A 'Bullshit Artist'
As you can, he wasn't really happy that Musk had lied to him. He believed he was Musk's first Republican candidate, only to be lied to so publicly later. The audacity of Musk!
But Musk was having none of it.
July 2022: Trump Should 'Sail Into The Sunset'
July 2022: Trump Attacks A 'Worthless' Musk
Raging mad about Musk's comments on his political future and his nerve to ask him to 'hang his hat', Trump lashed out.
He wrote on his Truth Social website:
"When Elon Musk came to the White House asking me for help on all of his many subsidized projects, whether it's electric cars that don't drive long enough, driverless cars that crash, or rocket ships to nowhere, without which subsidies he'd be worthless and tell me how he was a big Trump fan and Republican, I could have said, "drop to your knees and beg," and he would have done it".
July 2022: Musk Responds With LMAO
In absolute toddler fashion, Musk tried to rattle his former bestie even more with this incendiary response.
But just when it was getting juicier, they both stopped; presumably because Musk had to deal with his Twitter buyout that he didn't want to go on with anymore and Trump became focused on gathering more political support for his next run for presidency.
All hell broke loose when Musk was forced to proceed with his Twitter purchase. His first order of business was to fire almost half of company employees, and threaten the rest.
But Trump approved.
October 2022: "Twitter Is Now In Sane Hands".
Writing on his Truth Social profile, Trump said,
"I am very happy that Twitter is now in sane hands, and will no longer be run by Radical Left Lunatics and Maniacs that truly hate our country."
He went on to say, "Twitter must now work hard to rid itself of all of the bots and fake accounts that have hurt it so badly. It will be much smaller, but better."
Of course, Musk had to immediately thank him and he did that by launching a poll on Twitter so users could decide if they wanted Trump back on the platform or not.
November 2022: Musk Launches Poll For Trump
As you can see, a slight majority voted in the favor of reinstatement, and just like that, Trump's suspended account was active again, alive with all of his previous tweets, rants, and attacks.
Among those who celebrated, Musk's approval was heard the loudest.
The last line is in Latin and translates to 'the voice of the people is the voice of God'.
Here's Trump's active Twitter account.
While the account is definitely active again, Trump hasn't returned to tweeting yet. He's sticking with his Truth Social presence, which he also has contractual obligations to.
It is going to be morbidly fascinating to see him on Twitter again, not gonna lie. But the resistance has already started mounting. Activists are choosing to stay and fight. They are also forcing advertisers to halt their funding for Twitter and see if Musk takes heed. Chances of that are slim, though.
Because it's not just Trump that he has welcomed back on the platform. Entertainer and rapper Kanye West was also allowed back on after his suspension due to his anti-semitic comments. And unlike Trump, he has started tweeting.
God help us all.