You are about to create your first online survey. Now what?
I know that it's scary, but every first time is because it's something you have never done before. It might sound difficult and terrifying, but it's not. It's all about knowing what, you, as a survey creator, should consider in order to create a successful online survey.
Choosing A Survey Maker
The first thing you need to do before working on your first online survey is to decide which survey maker you will use. There are many online tools and software which can help you with your survey creation, such as the SurveyCrest or short quiz maker, Qiuzizz.
When choosing a survey maker, you need to look at its features, such as:
Is it easy to use?
Which question types does it support?
Which design features does it have?
What's its price? etc.
Defining The Survey's Purpose
What's the purpose of your survey? What do you want to achieve? Knowing the purpose of your survey determines the way in which the survey is designed. It's especially important when it comes to choosing the target population, the creation of questions, as well as for deciding upon their types.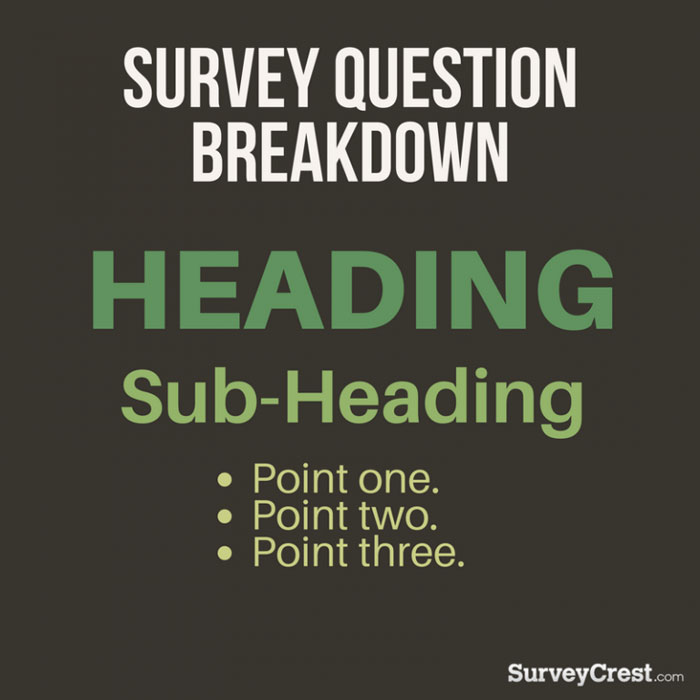 Specify The Target Population
Knowing your target population is one of the crucial factors when designing an online survey. You have to determine who the survey is about; which people can give valuable responses.
Specifying the target population is also important for the survey's visual design, the language used, and the nature of questions.
You might ask yourself questions like: Can I relate the survey's goal with teenagers, 30-40 years old or older? Do they live in a country relevant to my survey's purpose? etc.
Failing to specify the right target population, might result in a negative response to the survey or collect wrong and/or irrelevant data.
Survey's Visual Design
The first thing people always notice is the visual design, so you need to put an effort into the survey's design. Otherwise, participants might find it unattractive and deny participating in the same.
When creating your online survey, you should make it appealing by using different fonts, colors, sizes, headings, and so on, to help participants identify and differentiate questions from explanations and answers. For example, if you are doing a survey for a coffee shop, make sure the coffee shop logo is visible on the survey form for the audience to connect and remember. You can easily create it by using a logo maker tool. The picture below explains this visually.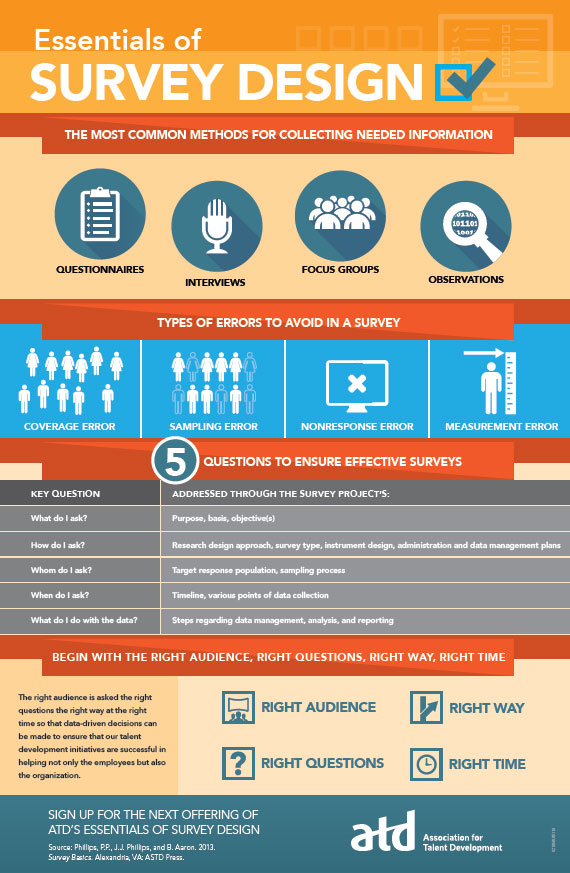 Image Source: td.org
Survey's Structure
The survey's structure is another factor that supports its visual design. You should structure the survey properly by dividing the contents into categories and/or subcategories depending on the questions.
The good structure allows participants to easily navigate through the same and gives a logical flow to the survey so they can understand it better. It also allows you to simplify the survey's analysis and assign categories to the data collected.
As Socialcops suggest on their blog, you can divide the survey "into sections on Particulars (personal background information) and Impact Assessment (Social, Educational and Cultural)".
Choose The Right Question Type
We all know that questions make the survey since they are the tools for collecting data. What you need to remember is that you need to come up with questions which are relevant to your goal.
When it comes to choosing the question type, here are a few suggestions:
Use open-ended and different types of close-ended questions, such as multiple choice, yes/no, and response scales.
Rephrase yes/no questions whenever possible. Instead of starting your questions with "Do you", you can use "How often", "How many", etc.
Try to avoid matrices or grids for responses because participants usually don't fill-in them accurately and they are not mobile-friendly. Instead, you can divide them into separate questions using the standard response scales.
How To Ask The Questions?
How to ask the questions is probably the most difficult part of survey design. Basically, you should keep them clear, straightforward and simple. This will allow you to receive more relevant responses.
When creating your first survey, consider the following ideas:
Check if every question is necessary according to the purpose of your survey. For example, if you are running a survey for a blog about inventions, you may want to ask questions that are relevant for your audience.
Ask direct questions because they are easy to understand and answer. Avoid using adjectives, adverbs, and unnecessary phrases and words.
Use a language that your participants can understand – Avoid using technical jargon, complex phrases, or modern abbreviations.
Ask only one question at a time – Every question should contain one part, a simple sentence. Here's a great example I found on the Qualtrics' blog: "Which of these cell phone service providers has the best customer support and reliability?"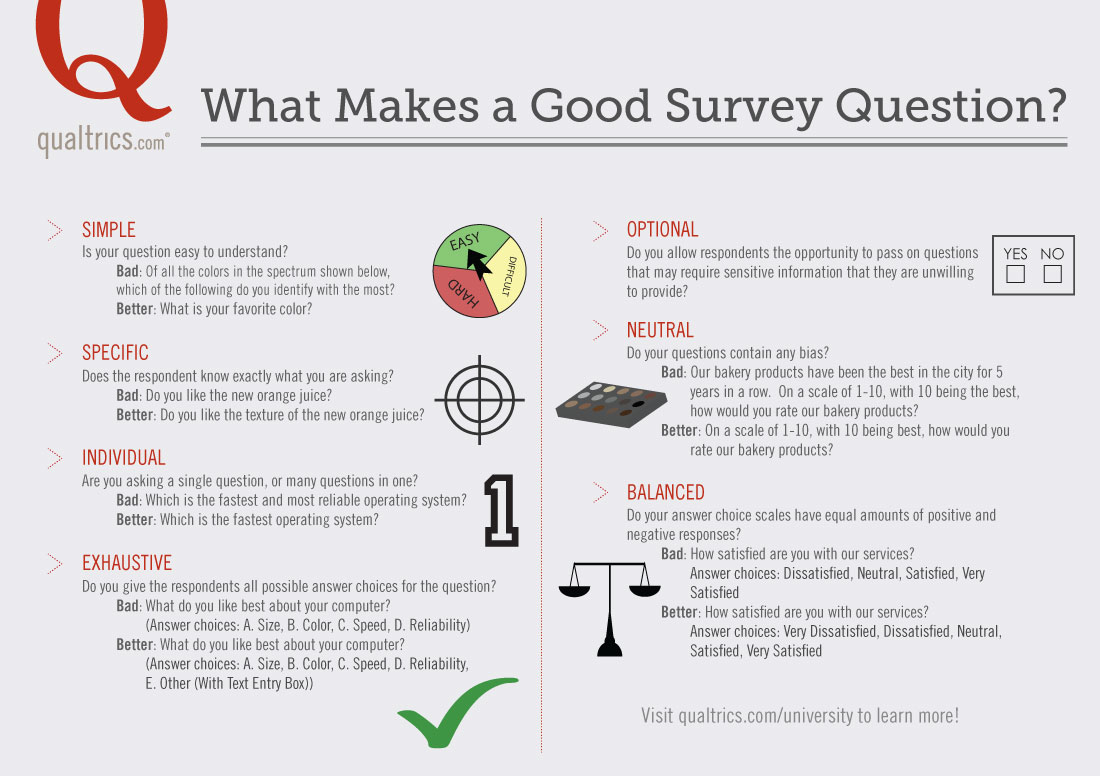 Image Source: Qualtrics.com
Survey's Introduction
The survey's introduction is the first impression potential participants make about the same. Although many of the survey creators don't think of its importance, it's a crucial part of the survey according to which participants decide whether to answer the survey or not.
When writing the introduction, you need to make it catchy for the potential participants. For example, you can start by thanking the participants for their time and interest, and explain what the survey is about and what its importance is.
Real Estate Feedback Surveys
Real estate agents are always interested in quality feedback from other agents and prospective buyers who view their listings. Putting thought into questions for an open house survey will help facilitate constructive feedback.
Conclusion
Surveys are important tools for collecting data which is later used for a particular purpose. When designing your first survey, you should keep it short and simple, regardless of its purpose or what questions you will create. This is because most of the participants, including myself, avoid participating in long and complex surveys because they are boring and time-consuming. Having a short and simple survey will make the same more appealing and will help you in structuring the same.