Why Is It Important To Create Surveys? This is one question which everyone usually asks when planning to create any sort of survey. Even I used to think the same question again and again to get the understanding behind creating surveys for multiple projects and tasks in hand. Creating surveys is a very genuine way to get hands on correct and unadulterated information from the individuals who are mostly referred as your target audience. Through surveys you tend to get firsthand knowledge and information from incumbents who participate in the survey drill.
• Why Businesses Need Surveys?
Businesses need to come up with multiple campaigns and promotions. In order to keep the data authentic and useful, survey forms are significantly required for businesses. This way, accurate information is extracted from the respondents. With the help of these surveys, product development is carried out.
There are tons of options available in the market for creating surveys, but not many (which are reliable) are free – they are quite pricy in fact. SurveyCrest is a tool that is totally free of cost and can give you unlimited options when creating, modeling, designing and sharing your surveys. SurveyCrest is the only free tool that adds spice to survey forms. Here's what makes Survey Crest your must-have survey tool, hands down!
• Signing-Up Is Not A Headache, But A Piece Of Cake: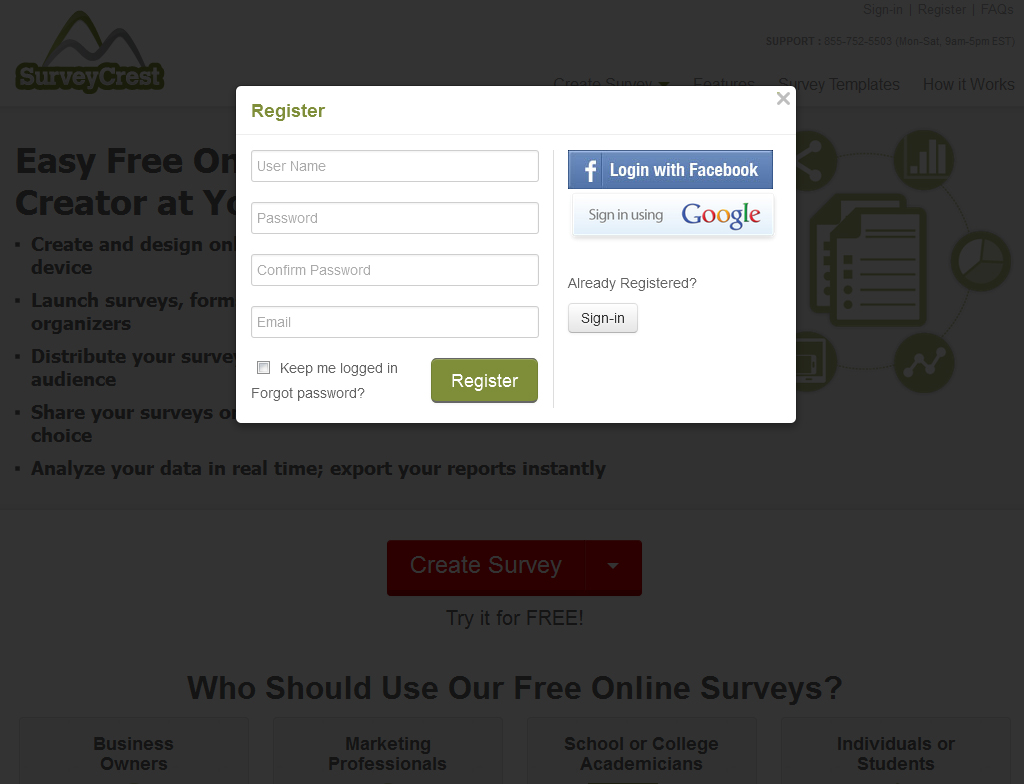 It is totally understandable that sign-ups which need too much of time consumption, are actually boring. This is the reason why, it is smart to associate signup processes with social media profiles of Facebook, Google Plus or Twitter etc. SurveyCrest makes your life easier in terms of signing up and the next thing you know is that you are in your dashboard and ready to create your own survey form.
• Survey Creation Is As Simple As A-B-C: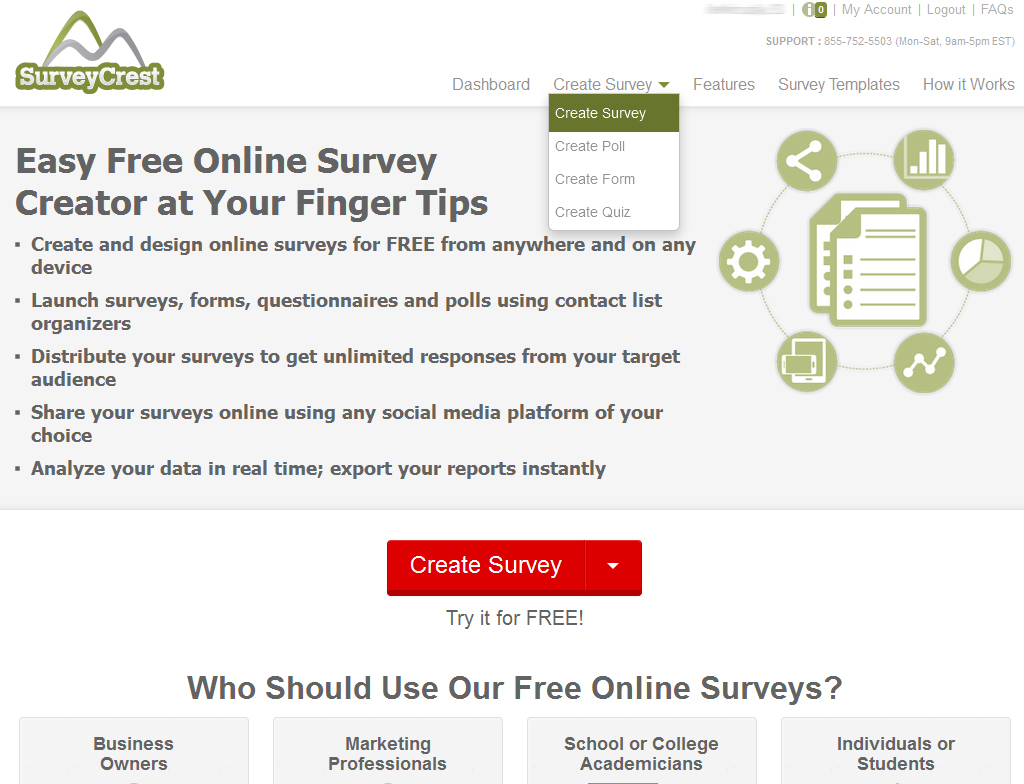 It is always good to be directed on every step, when you are exploring any platform that is new to you. This shows others care for you and want to make things easier for you. Similarly, Survey Crest helps you every time when you create a survey form. On every step you are given with choices, options and reminders to take care of them and create a form that misses nothing. From "survey title" to making sure if you want to publish it or not, SurveyCrest keeps confirming things from you, so that you don't get lost or left in the feeling of confusion.
• Template Choices Are Actually Overwhelming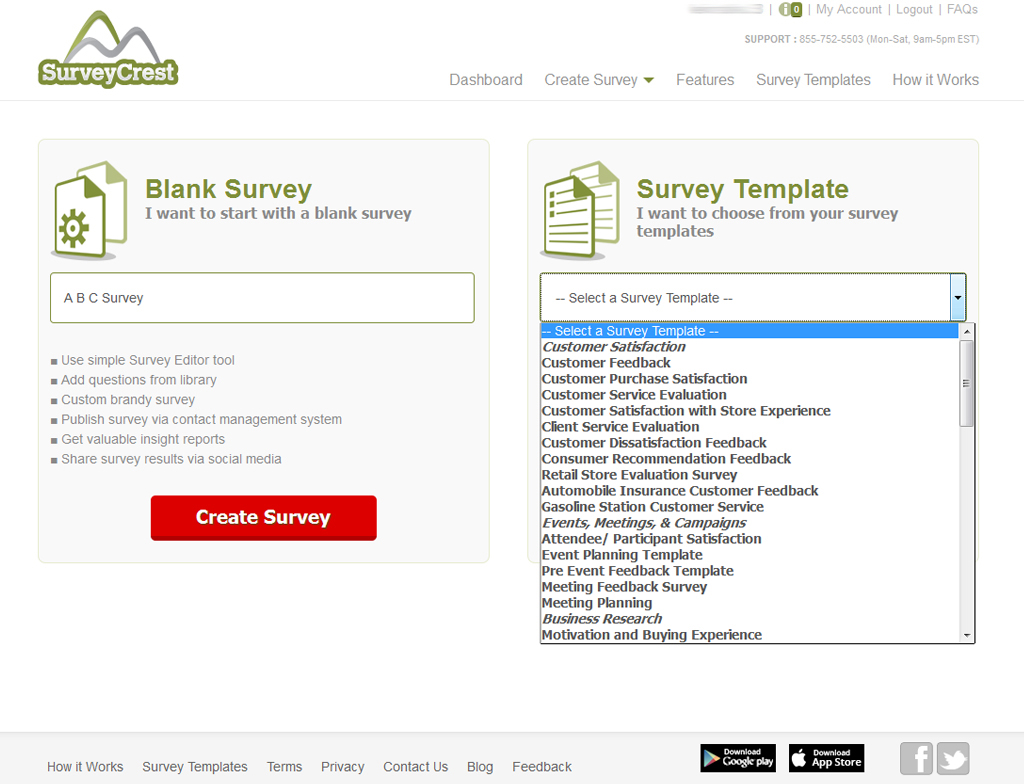 Can you imagine what you can do with more than 50 plus templates of survey forms? That's something amazing, isn't it? SurveyCrest offers amazing templates to keep your surveys stand out from the rest. This is a great way to add your personal touch in your survey forms. Go for the creativity!
• Choose Your Preferred Theme Options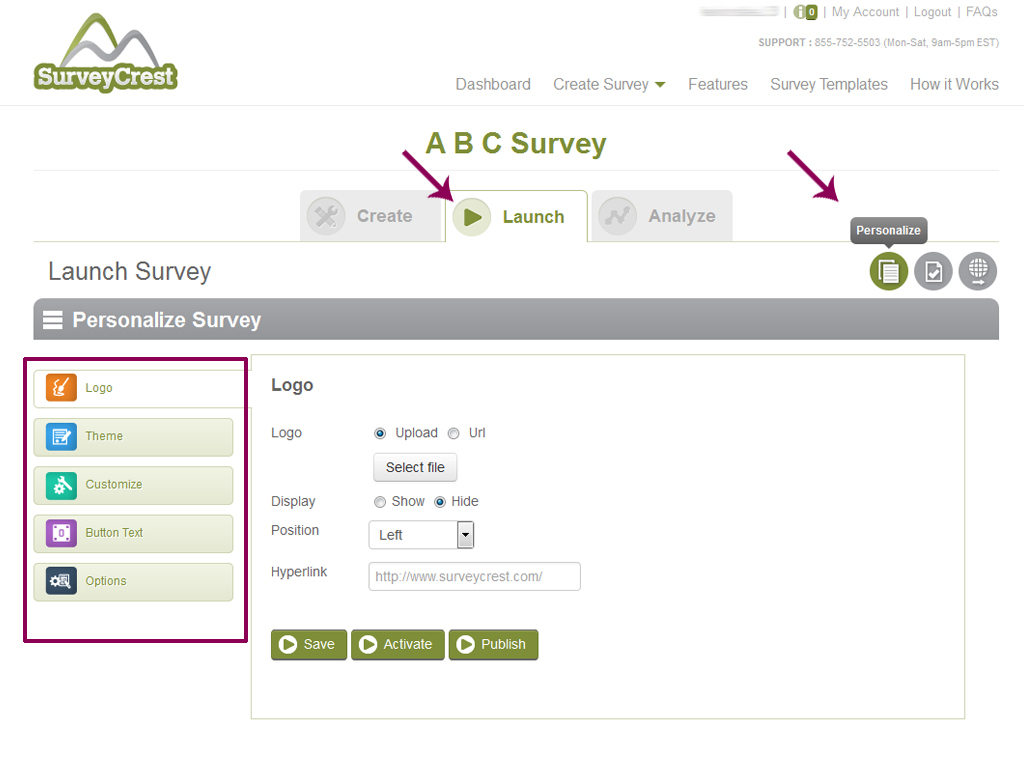 Don't you want to create a survey form which is creative, interesting and offers great designs as well? Come on, we all want to add a certain level of creativity and uniqueness in our survey forms but the problem is, not every other survey tool offers this rocking customization. Thanks to SurveyCrest for giving numerous theme options for free to its registered users. Now, enjoy a great range of survey themes.
On SurveyCrest, you can create your survey by selecting your preferred theme from a list of options. This is already shown in the option bar. All you need to do is, select the one theme that you think is apt for your survey form.
• Sharing Is Caring; Right?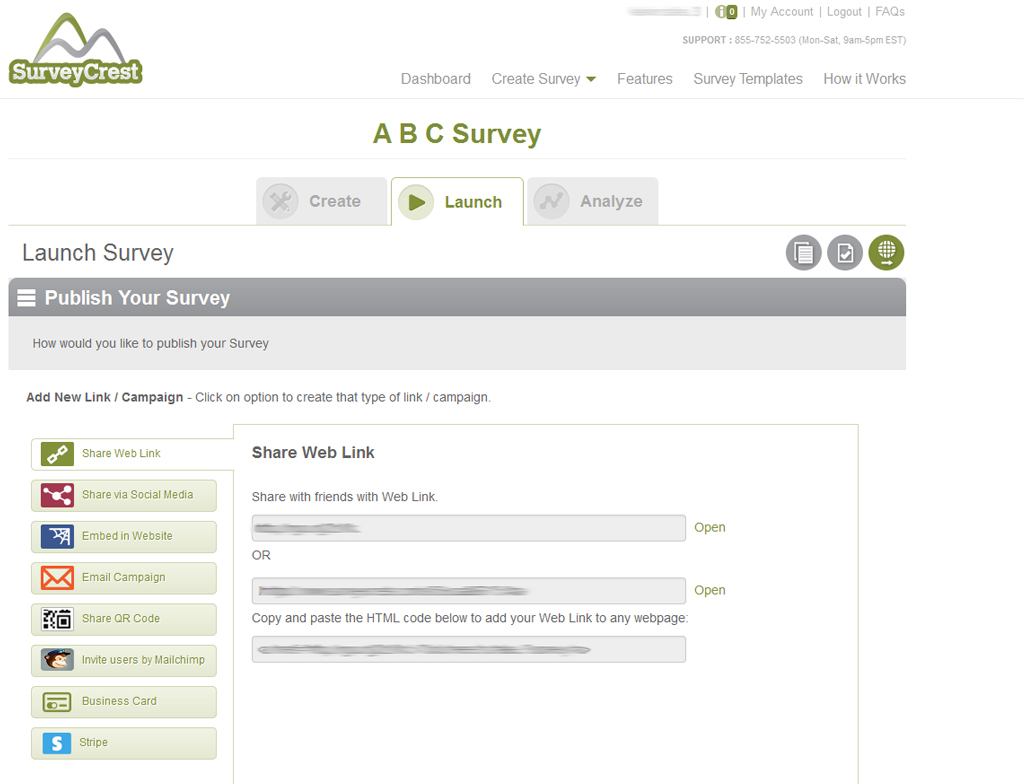 Once your survey form is created, it is essential to share it on multiple social media platforms. But why do we have to share forms on social media? The only reason behind sharing survey forms over social media platforms is to get more and more opinions, replies and information. On SurveyCrest, once completing the survey form you can easily share of multiple social media platforms like Facebook, Twitter, LinkedIn and Google Plus etc. This is a great way to increase the reach and engagement of the survey form.
• Who Doesn't Like It For Free?
The fact that SurveyCrest is free tool and offers some amazing services which can only be availed by paid options in other tools is a great incentive. This tool is useful for everyone whether professionals or students. One can always feel the difference once a survey is created through SurveyCrest.
So when are you trying SurveyCrest?