If you have ever seriously thought of starting your own business, now may be the ideal time to take the plunge. The current social and economic climate favors innovation and individual thought. The pandemic has forced everyone to let go of old notions of how things are supposed to be, and entertain novel solutions.
While the Millennial entrepreneurs have always been different from their predecessors, modern issues such as the looming climate crisis, mass resignations, and evolving social conversations have changed our own perspectives, too.
It's an interesting time to get together with diverse people, try out new things, and see where the journey takes us.
1. Modern Entrepreneurship Is Multifaceted
For some reason, even in crisis, the entrepreneurial market continues to grow. Companies such as General Motors, Microsoft, and Airbnb, were all started during periods of economic slowdown. This time around as well, things aren't that different.
According to the U.S. Census Bureau, compared to the second quarter, the third quarter of 2020 showed an astounding increase of 77.4% in business applications. When rated against 2019, that's a 38% increase.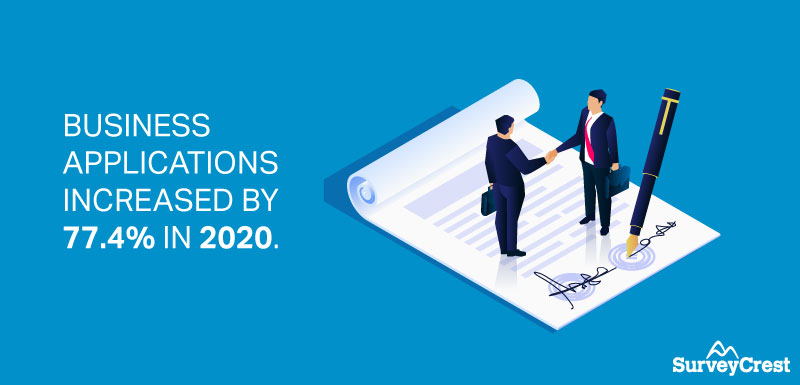 Image Source: iStock/sesame
One of the major reasons could be the fact that modern entrepreneurship is not always about starting a new business. The gig economy is at an all-time high. Skilled professionals continue to move to freelancing and renting out their skills.
If you don't feel ready to start your digital marketing company just now, try your hand at doing it for freelance and see how you like the freedom, flexibility, and how well you can fare against the stress of it all.
2. Modern Workers Feel Fulfilled at a Job Where They Can Learn and Be Mentored
When compared to previous generations, modern employees increasingly gravitate towards jobs that make them feel something. A sense of purpose and usefulness is what drives this employee demographic.
As an entrepreneur, having these people in the workforce is an ideal situation for you. These potential employees are looking to learn and be mentored at their jobs, a startup is the perfect place to have that career experience.
As an entrepreneur, having people who are willing to learn and grow with the company, you could not have asked for a more willing talent pool.
3. The Great Resignation Has Widened the Talent Pool for You
Speaking of the talent pool, let's all take a minute to fully appreciate how incredibly it has widened for the market. In 2021 alone, nearly 34 million people left their jobs looking for greener pastures. By greener pastures we mean better pays, more flexible working conditions, and jobs with more learning opportunities and career growth.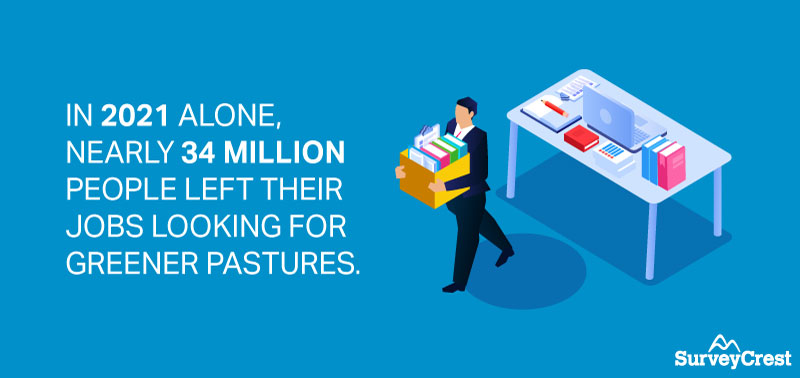 Image Source: iStock/sesame
The rate for the Great Resignation does not show any sign of slowing down. With existing employees struggling to feel satisfied in their jobs, it remains likely that the labor force will continue ballooning. This is a great time to snag the best minds for your new startup. Offer them better wages and friendlier working conditions to get the ball rolling.
4. Investors are Excited to Fund Innovative and Relevant Ideas
Investors are sitting on large reserves of cash and are looking for opportunities that excite them. Not only private lenders and investors, but there are a huge list of government loans, grants, and programs that are designed to bank small businesses.
What all these investors and programs are looking for is the novelty and the simplicity of the idea. The three things that you can rely upon to get you some generous interest from investors include:
– An idea that can generate a huge cash flow
– Something that has a large need in the market
– A distinct competitive advantage
If you can combine all three, great. If not, having your full grasp on one will be able to get you your foot in the door. We hope you can take care of the rest with a killer pitch deck.
5. Starting on a Miniscule Budget Will Help Develop Better Business Habits
One of the greatest perks of starting a business right now is that you'll know how to survive the hard times. If you can start now and succeed, imagine what you can do once things take a turn? With a limited budget to rely upon and fewer resources available, you will learn what you are capable of, you'll be able to think of creative solutions to mounting problems, and you'll know how to spend responsibly.
Most of all, compared to business that rely on huge nest eggs or thriving economies, you will be in a unique position to understand the importance of pivoting at the right time, and will be familiar with the signs of a bad tide. You'll never be caught surprised and will scale at a pace that can sustain the business.
6. You're in a Unique Position to Become a Pioneer Entrepreneur
The pandemic and the resultant widespread embracing of technology by several industries indicate that there are markets that won't sustain in this new world order. If you jump ship at the right time, and carve a niche for yourself, you are in a unique position to not only be an entrepreneur but a pioneer, too.
Once you do that, you will also be able to attain a position of thought leadership as you will have something credible to say. The more you speak from experience, the more people will listen to you and apply what you have to say.
It not only builds your brand but also improves your portfolio as an entrepreneur.
7. Ecommerce Has Gone Bonkers
There have been industries and businesses that have profited insanely as the world went into a lockdown. Ecommerce is one of them. In 2021, the global retail sales from eCommerce were amounted at approximately $4.9 trillion. In the next 4 years, this figure is expected to reach at around $7.4 trillion.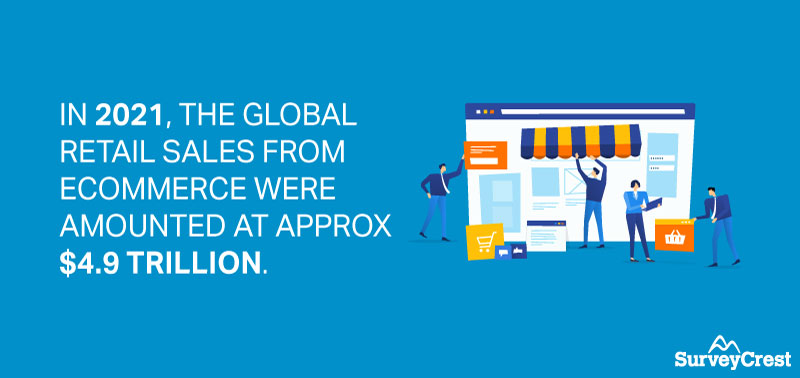 Image Source: iStock/TCmake_photo
If you are planning to launch a business in eCommerce, you could not have chosen a more ideal time. Even as in-person dealings have opened up, people have really become comfortable with online buying. The industry has also improved with better mobile-viewing stores, more tech-enriched retail solutions, and better online security.
8. People Want to Buy Local
During the pandemic, with travel restrictions in place, the drive to buy local gained huge momentum. When we couldn't visit the malls, we looked closer to home and found incredible products and services readily available with more personalization and customization.
However, this desire to buy local is not just borne of ease. The pandemic made sure that we all connect with each other at a more human level. In this attempt to forge close connections, our local shops, vendors, and businesses became the first people we came in contact with. Our local businesses also delivered spectacularly and now this has become a relationship that is totally bankable.
9. You Won't Face a Lot of Competition
Small businesses and startups have always been fragile, but the pandemic wasn't as brutal on them as we had feared. According to a Wall Street Journal report, Federal Reserve economists have suggested that business closures due to the pandemic were fewer than expected.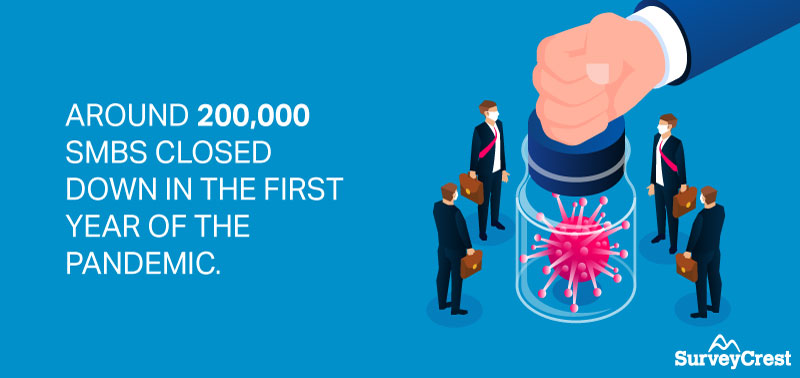 Image Source: iStock/sesame
Still, nearly an extra 200,000 SMBs closed down in the first year of the pandemic and that means a much leaner competition outlook for any business that starts now. A friendlier market means you have more chances to bounce back from your mistakes. As your audience will not have too many choices to sample from, what you offer will receive a much more focused attention.
10. You Have the Space Available if You Need it
With large numbers of businesses permanently shutting down during the pandemic, huge amounts of rental spaces have become available. While so many businesses have switched to a completely online space, if your venture requires a storefront or office space, there are many co-working spaces that have sprung up and that offer incredible working environments.
Since it's a buyer's market, you will also be able to gain deals and discounts that will further give a much-needed breathing room to your new business.
Conclusion
Economic and financial conditions rarely align in a way that encourages new businesses to come in. The pandemic, while a disaster on so many levels, has paradoxically surfaced as a nourishing business ground for new ideas, entrepreneurs, and creative endeavors.
To benefit more from these unprecedented opportunities, don't stall much longer. Take the plunge and start your business now.