FinTech is a multi-billion dollar industry. Investments in technologies that make financial services smarter, more secure, agile, and customer-focused have consistently risen in the last ten years.
But 2019 was the most promising time.
That year, $215 billion dollars were injected into the market to reimagine financial services solutions for the modern consumer.
This trend of heavy investments would have continued if not for the pandemic. Covid-19 uncertainties were reflected on the amount of FinTech investments in 2020 when the industry only received $121.5 billion dollars in funding – a drop of more than a one-third compared to the previous year.
Yet, this was the year that brought more consumers to FinTech applications than ever before.
Explore:
Food and Restaurant Trends 2022
Apply Pay, a mobile-wallet solution that was dominating the market way before Covid-19, experienced its strongest surge in 2020 when 92% of all mobile-wallet transactions were conducted through its platform. Overall, 21.5% of all financial transactions of 2020 were carried out by mobile-wallets.
With such promising forecasts fueling the growth of FinTech startups, what can you expect for your business and consumers for the next 12 months?
Here are our industry outlooks and trend predications for 2022 and beyond.
1. Popularity Of Mobile Wallets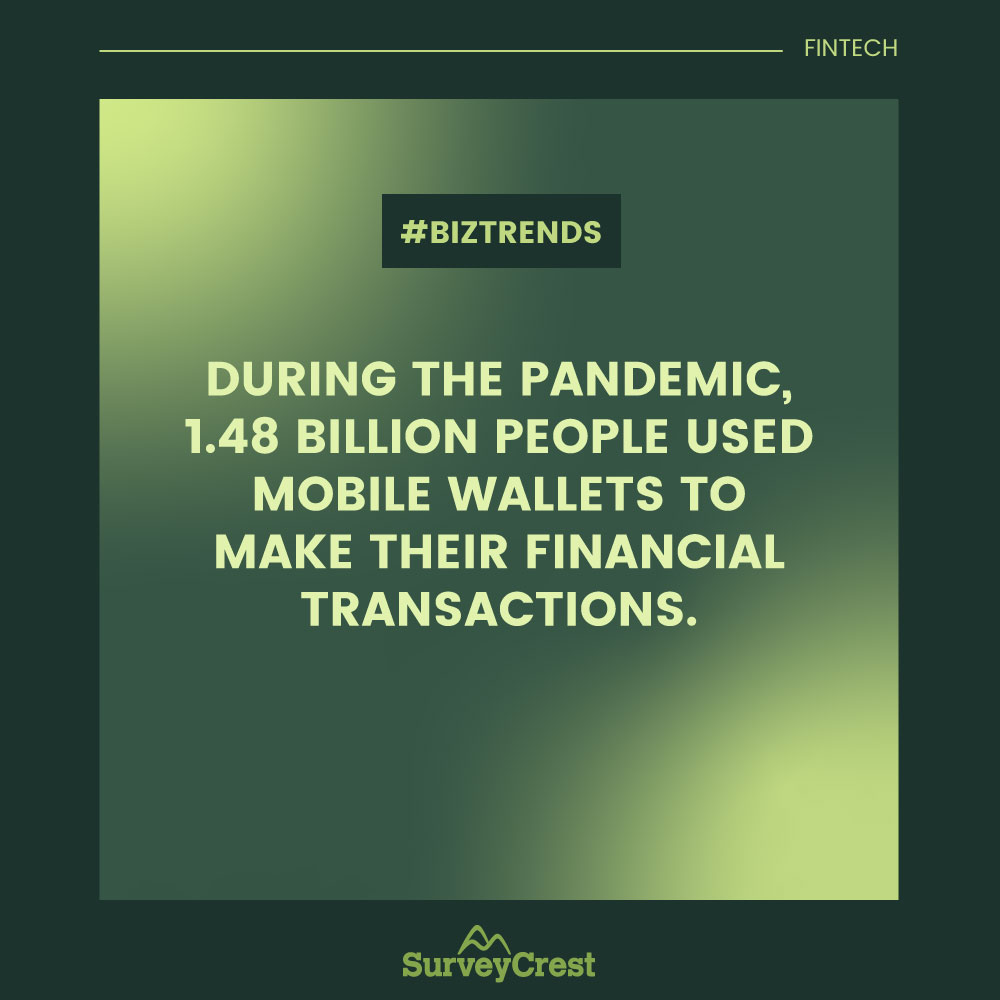 Driven by convenience, trust, and security, mobile wallet market is rapidly expanding. By 2026, the European mobile wallet market alone is projected to be worth over $60 billion dollars. Globally, that estimation is expected to exceed $80 billion dollars.
Major FinTech apps in the mobile wallet space are Apply Pay, Google Pay, Samsung Pay, and Venmo. During the pandemic, 1.48 billion people used these services to make their financial transactions. In the years to come, these figures are only expected to grow.
If you are looking for startup opportunities in the FinTech sector, further innovation in the mobile wallets arena might be something to look into.
2. Digital-Only Banks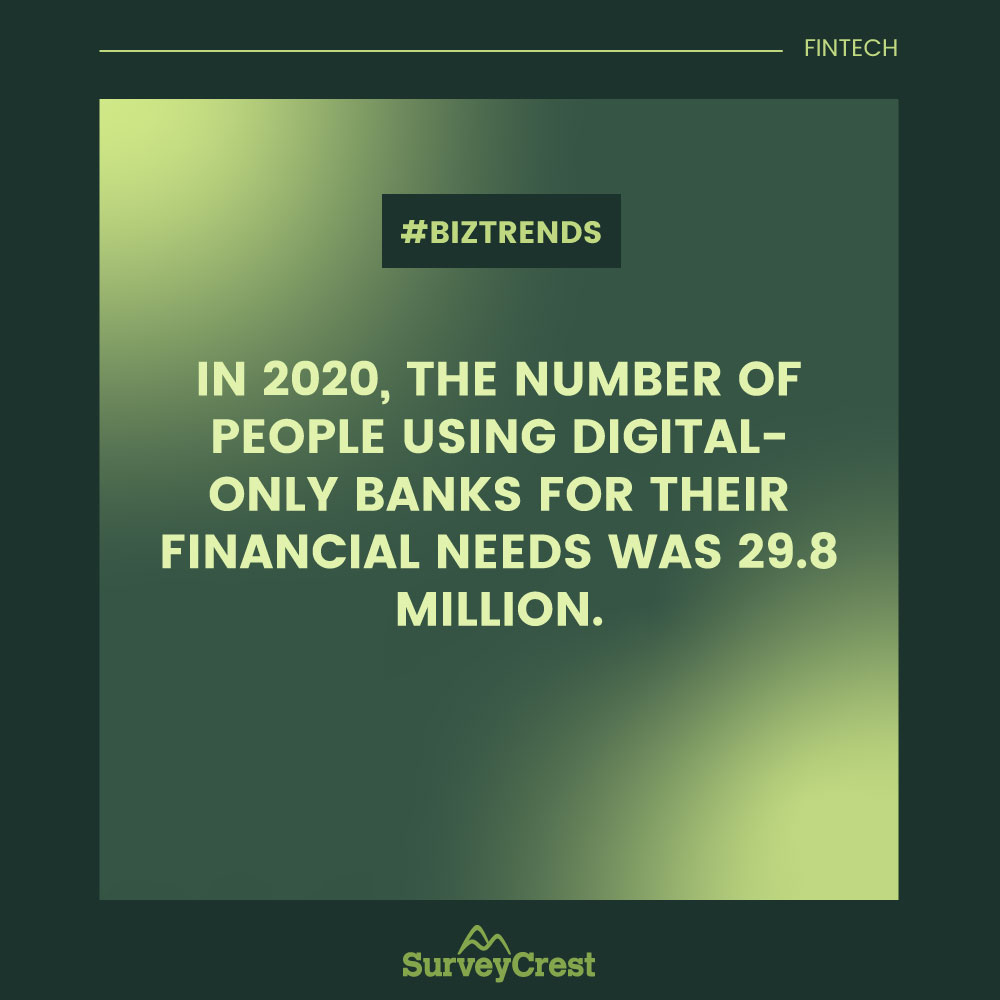 A digital-only bank only exists online. Unlike a mobile banking app where the app is the digital extension of your bank's financial services to you, a digital-only bank does not need a bank account to operate.
Square, a FinTech app founded by Twitter's Jack Dorsey is a famous example of such a bank. These digital-only banks are not only focused on consumers but help businesses, too. Using Square, you can open an online checking account, a savings account, and even apply for loans.
A white paper by InfoSys in 2018, reported 64% of respondents feeling supremely confident of using digital-only banks to conduct their financial transactions. In 2020, the number of people using digital-only banks for their financial needs was 29.8 million. By 2025, estimates suggest this number to swell up to 53.7 million.
3. Banking-As-A-Service Model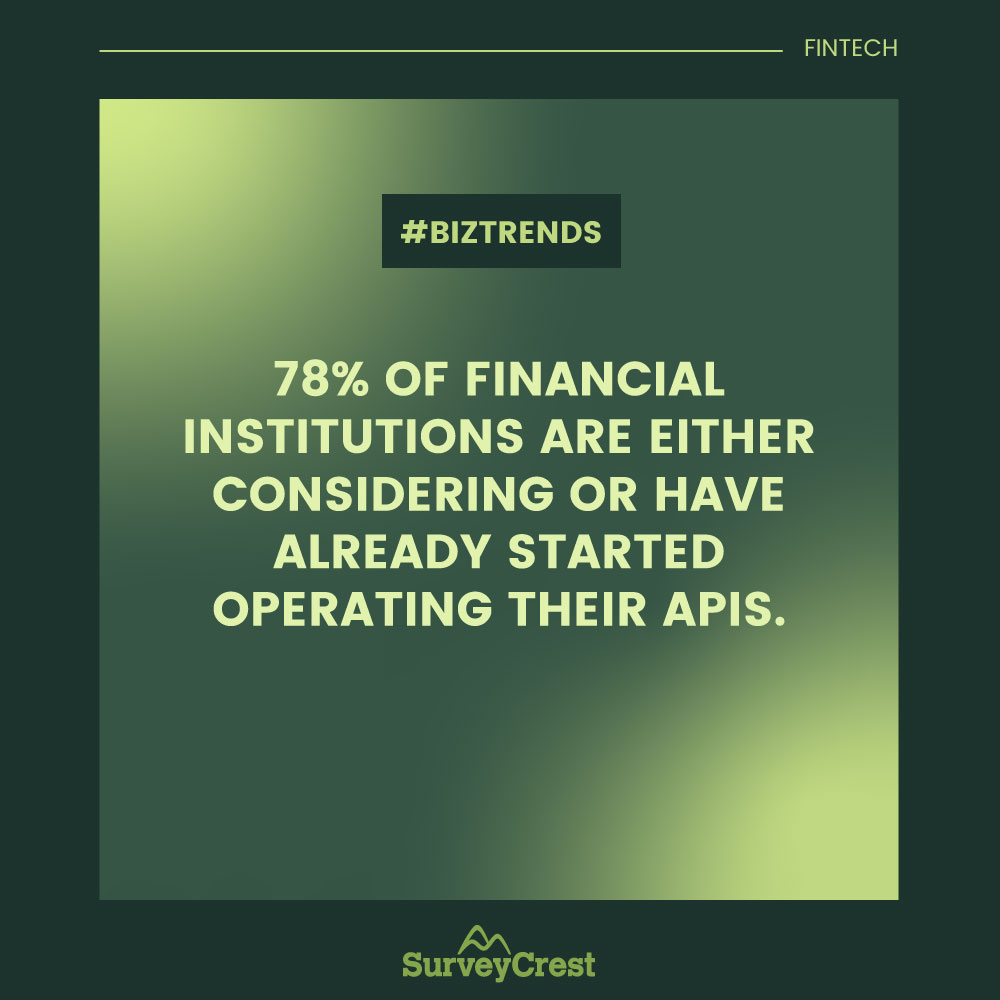 This is another digital financial solution that's paving the way for FinTech growth.
Banking-as-a-Service (BaaS) model works as the middle-man between traditional financial institutions and businesses (as well as FinTech). The aim is to create digital financial solutions that are quick, convenient, secure, and innovative.
Since BaaS takes care of all the digital infrastructure, financial institutions as well as FinTech apps do not have to do a lot of heavy lifting. They can remain focused on creating more creative and intuitive solutions that address business finance needs.
As this sector grows, FinTech expects to see a huge surge of growth. According to research by Finastra, BaaS has acquired the position to have a decisive impact on 85% of global financial institutions. The same reports suggests that 78% of these institutions are either considering or have already started operating their APIs further fueling the growth of the BaaS sector.
4. Embedded Finance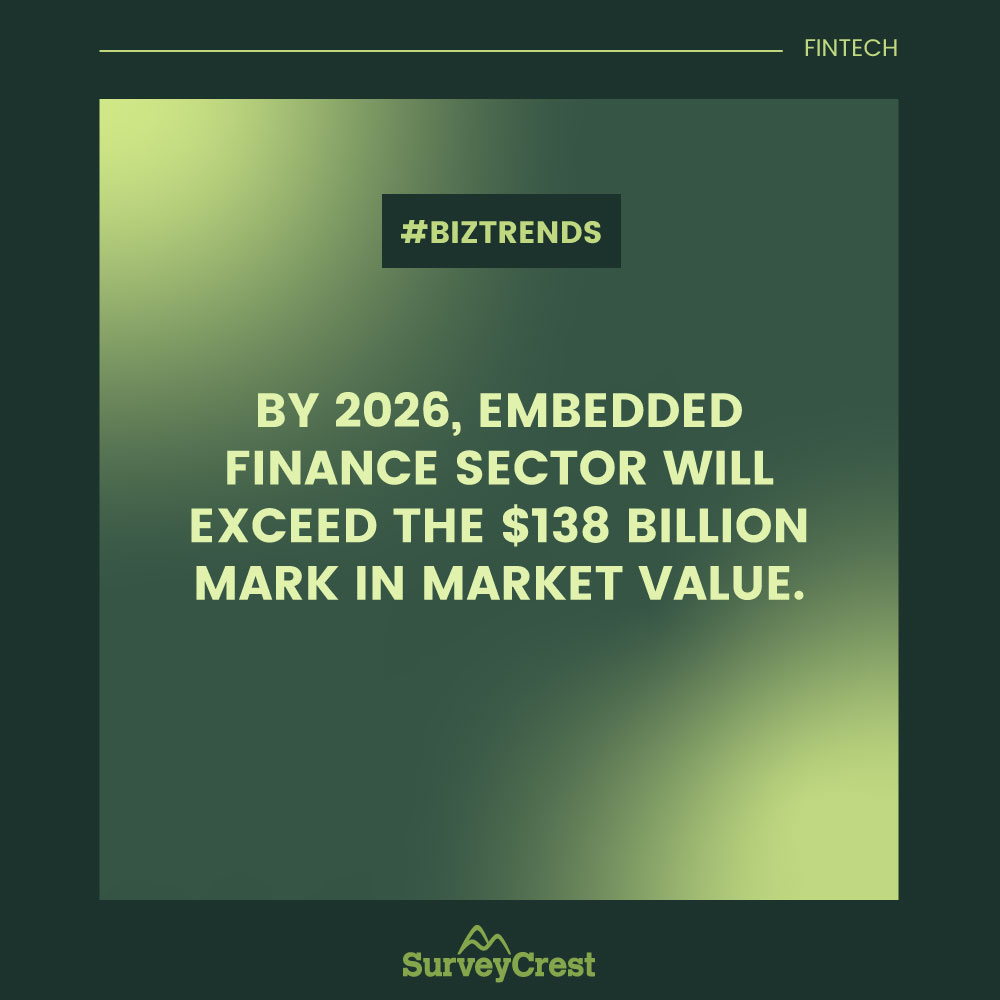 All good technology is unnoticeable. You do it without even thinking about it. That's the goal behind embedded finance. It makes your everyday life more convenient, and you take these features as a given.
As more and more financial institutions continue to use APIs and BaaS keeps growing, embedded finance becomes a natural next step. Estimates suggest that by 2026, this sector will exceed the $138 billion mark in market value, with $43 billion of it coming just from the first-half of 2021. In 10 years, the industry is predicted to become a $7 trillion market.
Financial sectors that are set to gain the most with this growth include consumer lending, insurance, and payments, especially buy-now pay-later services.
5. Frictionless Trading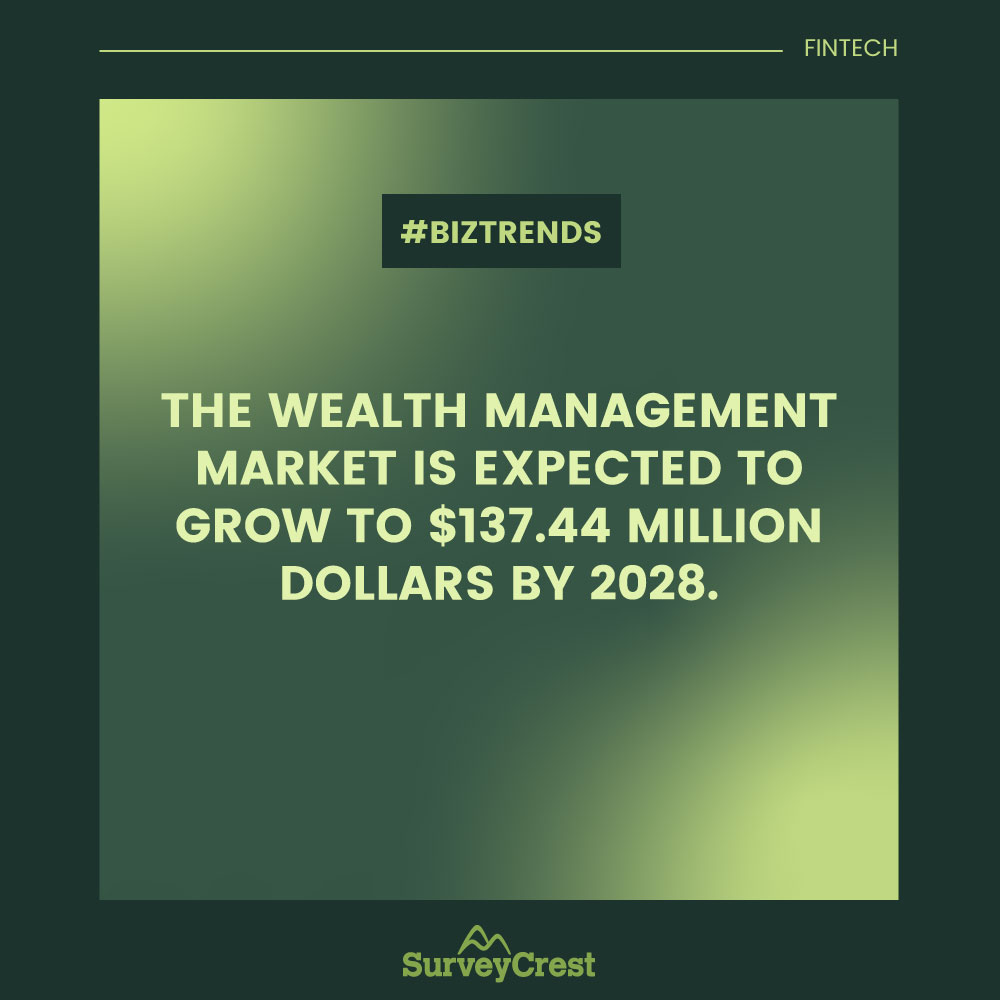 Financial technologies are reshaping the entire markets, and wealthtech was just the natural next stop.
Thanks to continuous investments in the market, wealthtech startups stand to provide their consumers with more frictionless, streamlined, and intuitive trading capabilities that Robinhood and Webull, etc., offer.
These apps help consumers become more proficient at investing in stock trades. If you are planning to create a wealth management startup in 2022, you're entering a market that's expected to grow to $137.44 million dollars by 2028.
6. Rise Of Regulatory Technology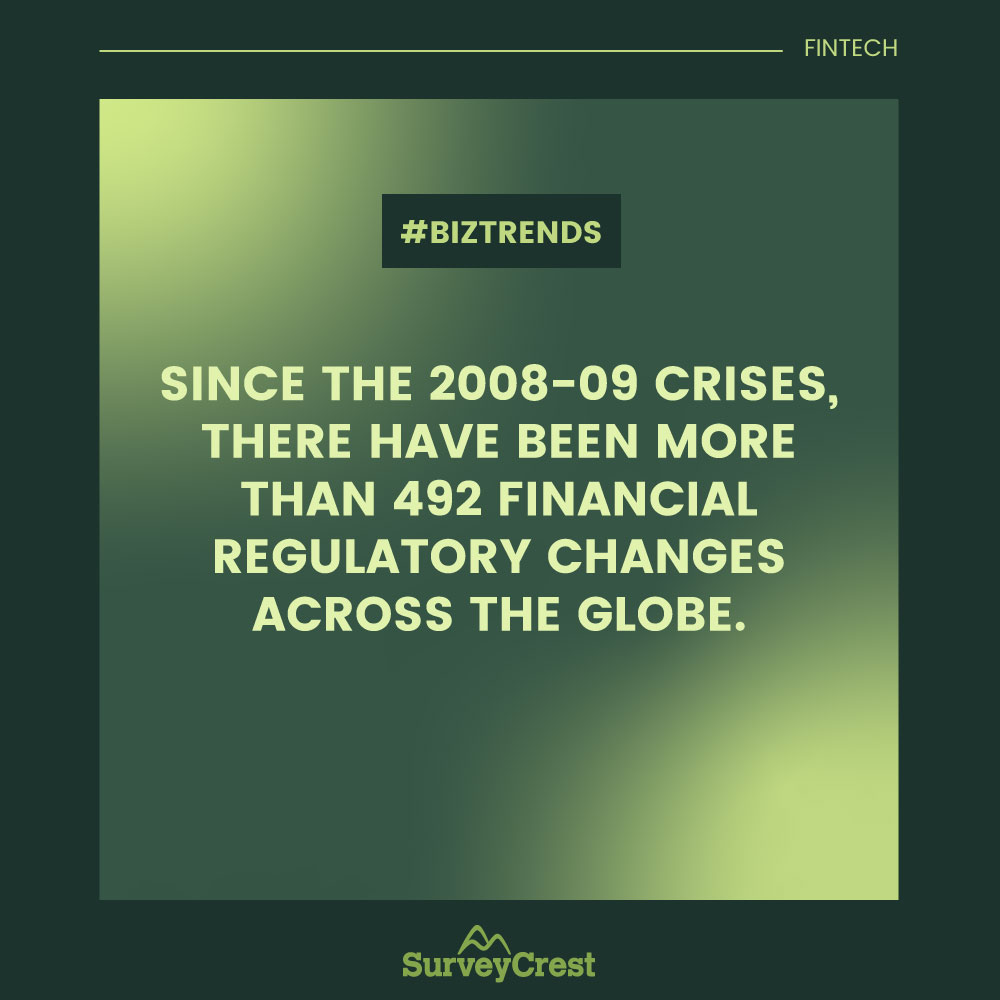 Finance is a heavily regulated industry. Since the 2008-09 financial crises, there have been more than 492 financial regulatory changes across the globe. It is one of the major barriers when new digitally-assisted financial solutions are proposed.
However, thanks to innovation in regulatory technology, regulatory compliance has become more secure, streamlined, and speedier. Areas covered by these advancements include risk management, identity management, financial reporting, compliance and more.
FinTech services are one of the key consumers of these technologies. According to a RegTech Industry Benchmark report prepared by University of Cambridge, out of over 800 RegTech vendors used for the study, 57% cited FinTechs as their third-major targeted clients. Banks and insurance companies took the first two spots.
7. Open Banking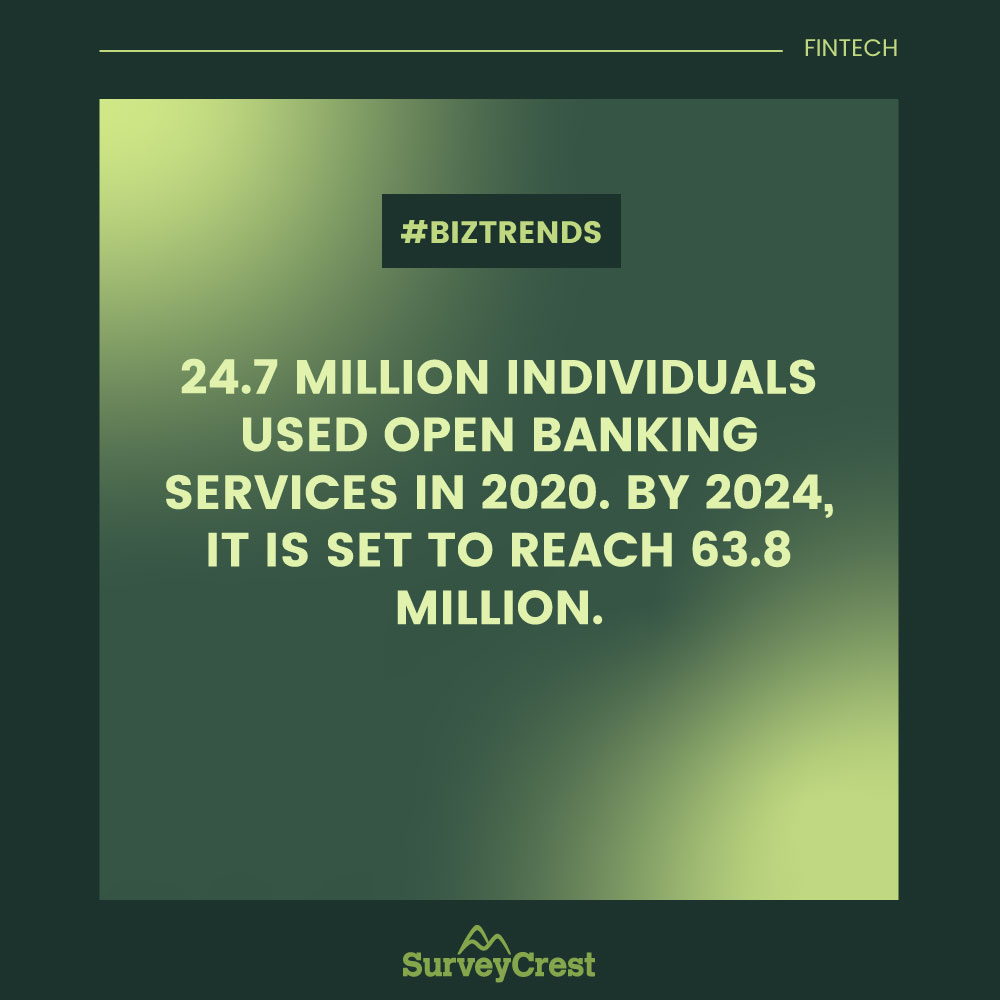 Centralization has been at the heart of the global monetary system. It's why the consumers trust the value of the monetary notes in their pockets and the global trade is possible. Innovations in technology have disrupted that. Or, is on its way of doing so, at least.
We are talking about open banking. In these decentralized networks, banks and other financial institutions share their customer data with third parties through APIs to make consumer finance more agile, fast, and easy.
Globally, a total of 24.7 million individuals used open banking services in 2020. By 2024, this number is set to reach 63.8 million users. That's a 50% growth from 2020 to 2024.
If you have been wondering which FinTech avenue to try for your startup, this one may be worth your efforts.
8. Biometrics Security Systems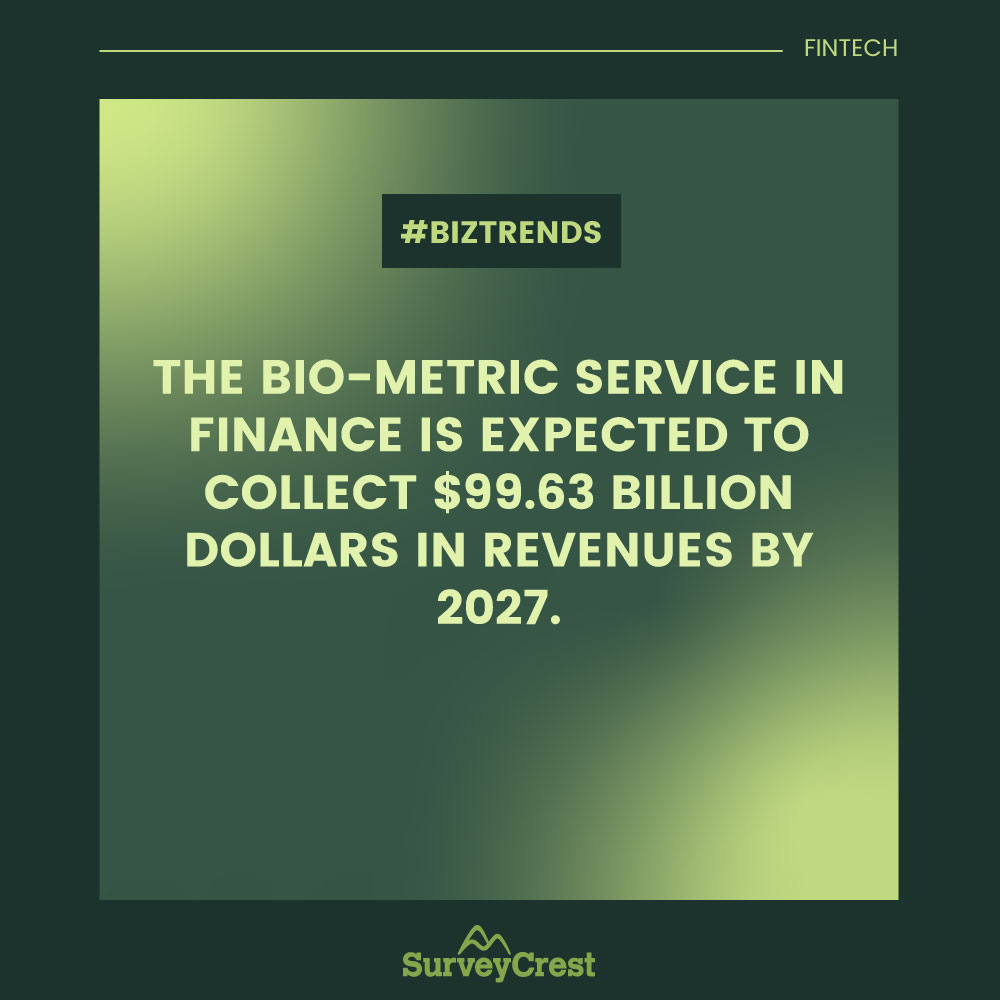 Biometrics are a way to augment the security features of your FinTech startup. Since most mobile phone users are familiar with fingerprint sensors, using these features to make your digital payments securer and faster should be a no-brainer.
You can also use biometrics – facial recognition and finger prints, etc. – to authenticate users, verify procedures, and confirm financial transactions.
Among the FinTech offerings, biometric systems are a rapidly growing sector. Its three main segments – iris recognition, signature verification, and automated fingerprint identification – collectively speak of an industry worth $36.6 billion dollars. With immense growth in sight, the industry is expected to collect $99.63 billion dollars in revenues by 2027.
9. Autonomous Finance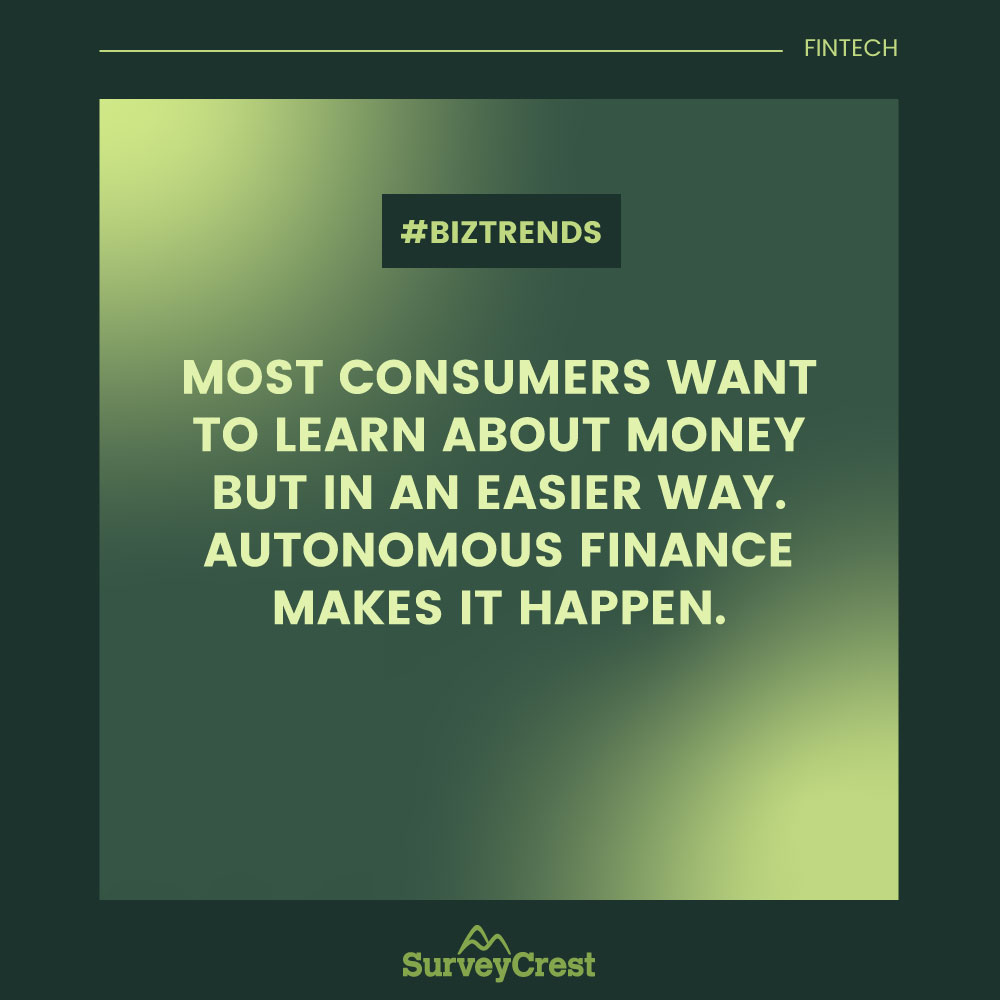 Autonomous finance simplifies money management. This whole sector is supported by technologies such as artificial intelligence, machine learning, and next-level data analytics. Essentially, it's all about relying on these data-sensitive technologies to help consumers manage their money better.
It's about improving financial literacy – the most common stats of which indicate towards a recurring pattern: most consumers want to learn about money but in an easier way. Autonomous finance makes it happen.
Budgeting apps are a great example of autonomous FinTech solutions. Apps that automatically switch money from savings into investments, apply for better loans, and dispense personalized financial advice are some other offerings of this sector. To help customers adopt this technology with a more open mind, perhaps it can be paired with live finance coaching by a real human in the initial stages. As consumers get more comfortable, AI can take over the operations.
10. Voice-Assisted Finance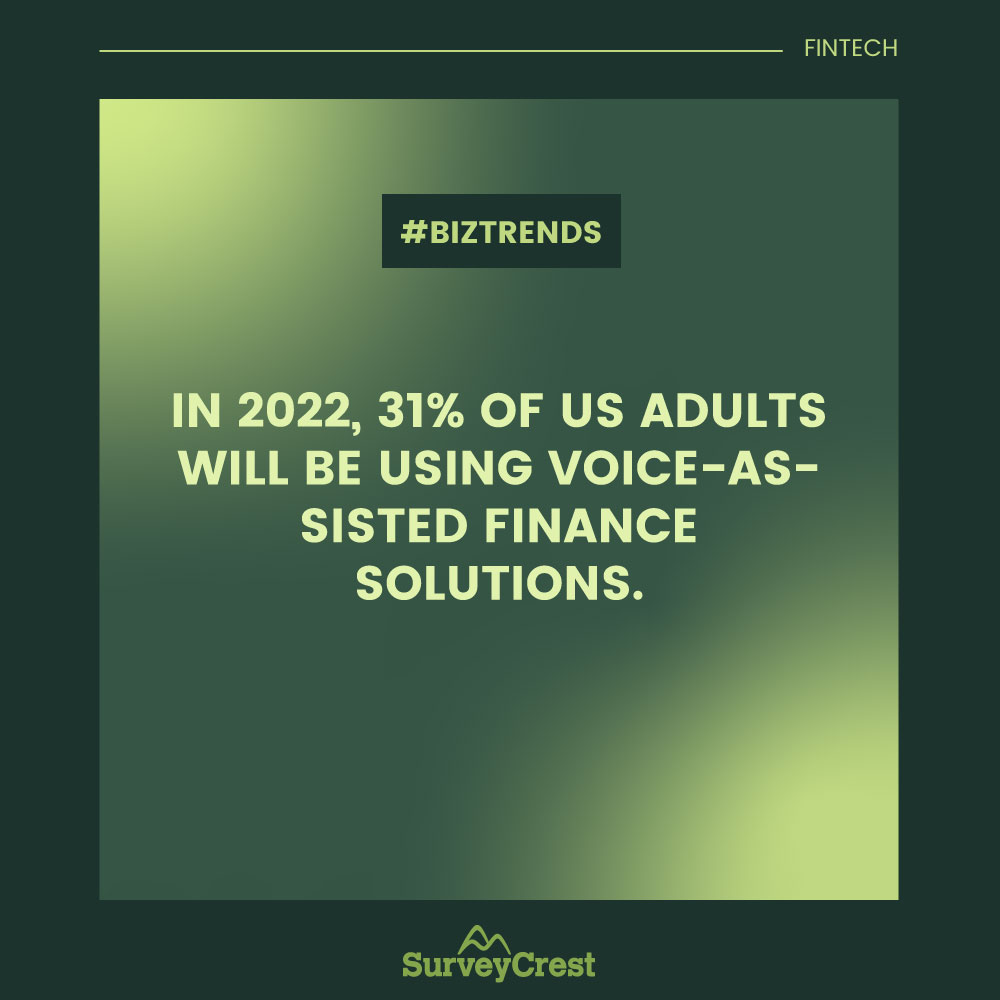 We are using voice-command technologies such as VoIP to conduct online searches, play music in our living room, and order food from our favorite eatery, so it was only a matter of time that we'd use this technology to send money to a vendor, get account details, and authorize mobile payments.
While this trend is still in its infancy, it's quickly gaining ground. As we head into 2022, 31% of US adults will be using voice-assisted finance solutions. And it's good, because, on one hand, it makes digital finance more accessible.
It renders reduced mobility, linguistic challenges, and limited visual capabilities moot. Using voice commands, you can conduct your digital financial transactions as you knead dough in the kitchen, drive on the highway, or shout instructions from the shower.
On the other hand, voice-assisted finance is also more secure – offering the protection of biometrics.
The Takeaway
It's an exciting time to consider starting a FinTech trade. All the economic indicators are positive and the pandemic has changed consumer attitude towards the internet like never before. If you are successful in creating financial solutions that gel well with the established digital ecosystem of the present day consumer, we may be talking about your startup on these pages 12 months from now.