In the wake of any health emergency, physical lives are given preference over mental well-being. Resources, efforts, and focus are all shifted to ensure the continuity of human life, and mental health is only considered when that primary goal is achieved – and this is the way it should be.
And this is how it has been for the past few months since the Covid-19 begun its outbreak.
All economic activity ceased, strict social distancing rules were put in place and daily life as we knew it halted. And it was worth all that. Countries are now reopening their economies, air traffic, and even schools. Workplaces are welcoming employees again with a 'new normal' in place. And we're seeing a drop in new Covid-19 cases and number of deaths.
Now is the perfect time to also start focusing on the toll the last few months have taken on people's psychological and mental health. While a few businesses have been able to continue even during the lockdown, not many have had that chance. Employment levels have soared to 36 million jobs lost with almost half of Americans anxious about being able to put food on the table, afford basic supplies, and fear of running out of medicines.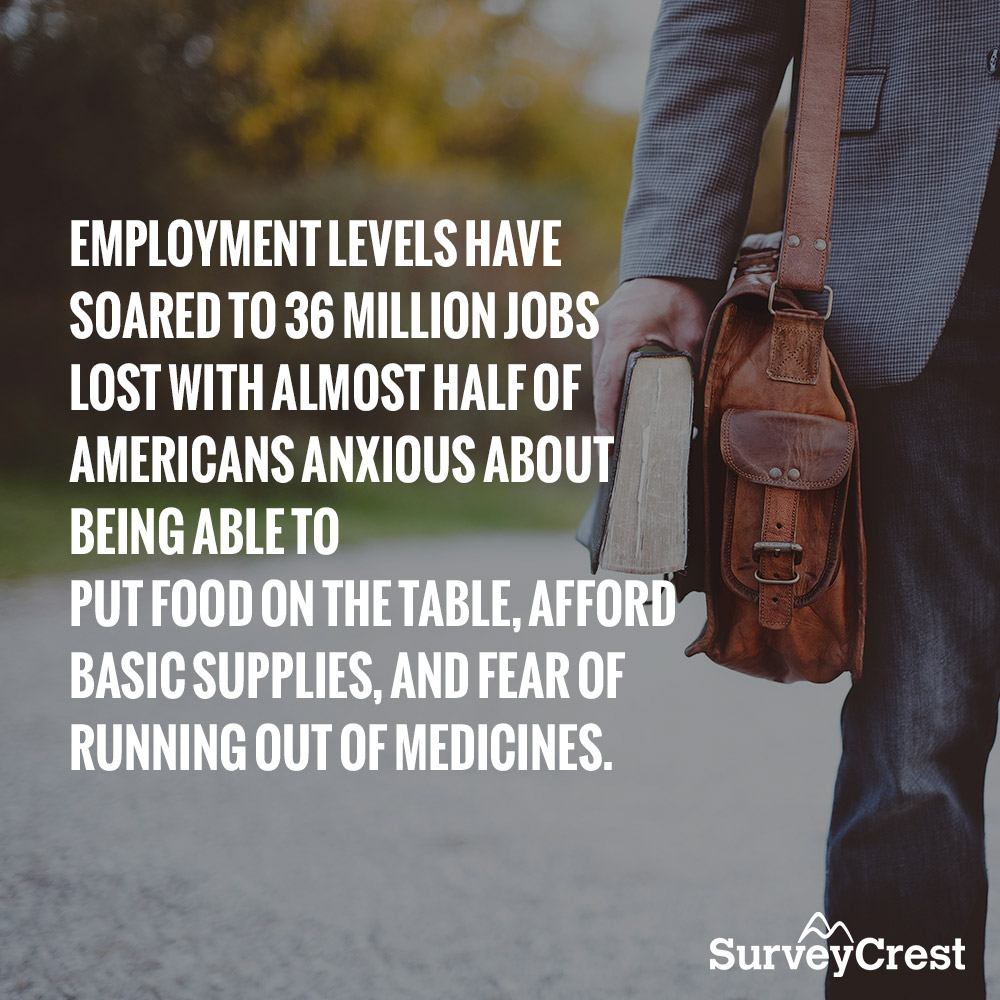 Image Source: Unsplash/Ben White
As businesses start to reopen and workers that weren't laid off rejoin their workplaces, it is critical to assess the mental health they are in, and any anxiety or worry they're carrying as they perform their professional tasks. It is not only good for the worker themselves but the business and wider economy, too. It also keeps the government and other agencies updated so they can prepare policies and strategies to help people in need of assistance.
In this article, we are going to talk about why it is important for businesses, governments, and researchers to invest in mental health surveys right now, so they remain updated and knowledgeable. So without further ado, let's jump right in.
1. Public Health vs. Economic Recovery
As states reopen and workers join the labor force again, there is a growing fear in people that it may be too early. They fear to get the virus and infect their loved ones as a consequence, but with an already tightened economy and personal financial collapse looming on their heads, many do not have a choice.
As these anxious workers rejoin the economy, what fears, anxieties and worries are they bringing to the job, and how this anxious mental state would impact their performance level and work quality?
These are important questions to answer. Not only to save people but also to put in place strategies that ensure all workers are given safe work environments where their anxieties can be put to rest. How can we do that as business owners if we are unaware of what our employees' worries might be? Therefore, it is critical and vital that we are in the know. So that we can take actions that can ensure our smooth – and safe – return to economic health.
2. To Monitor People's Emotional And Behavioral Changes
There is no doubt that this pandemic has changed our definitions of what's normal forever. But while people are trying to adjust to a new normal, financial, health, and social worries have made an impact on people's emotional and mental health.
Compared to U.S adults surveyed in 2018, 28% reported feeling serious mental distress – a number that was only 3.5% two years back. And if that isn't indication enough of what a devastating trigger this pandemic has been for people's mental health, a recent national poll by the American Psychiatric Association paints a dire picture.
According to the results of the poll, the pandemic as well as the resultant lockdown has caused vast emotional and behavioral changes in people. 36% Americans have stated coronavirus as having had a serious impact on their mental health, 19% reported having trouble sleeping, 8% admitted to using more alcohol, drugs or substances, and 12% reported an increase in domestic problems (fighting with a partner or a loved one). People even reported trouble concentrating – 24% – because they are thinking about the virus all the time.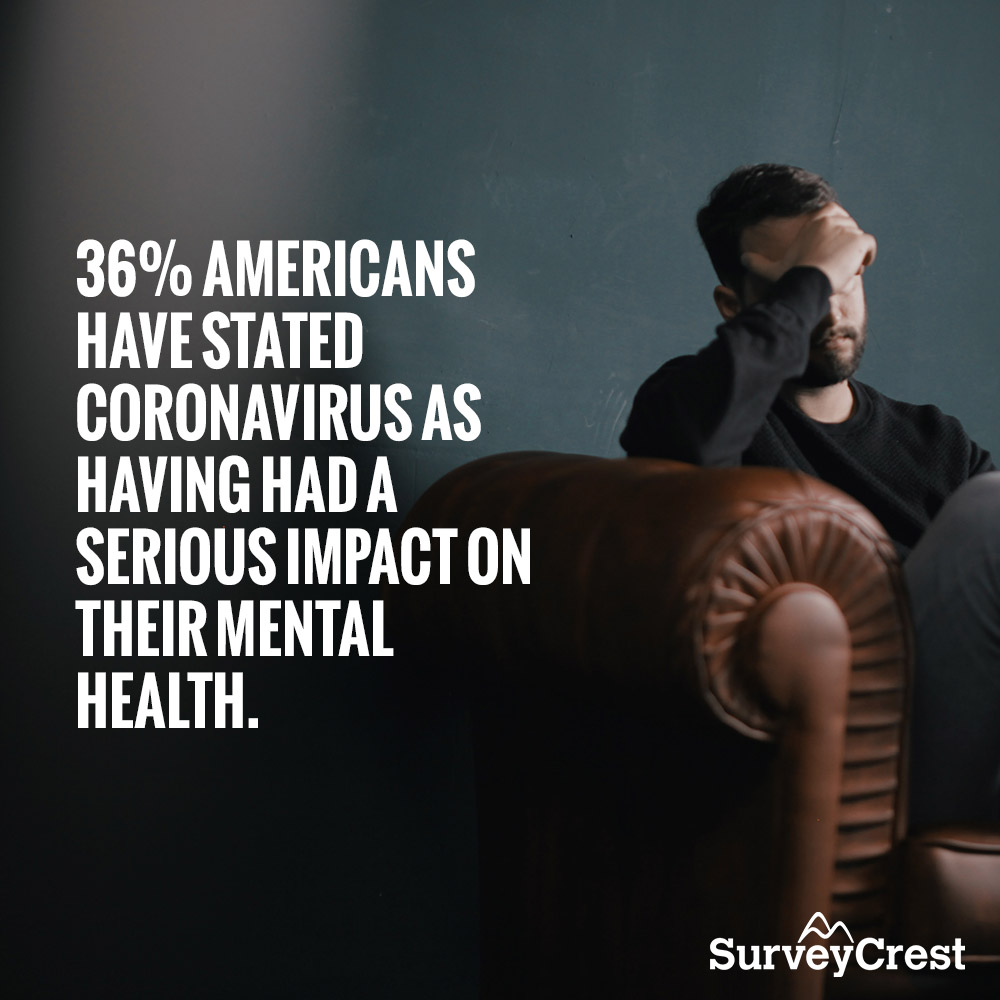 Image Source: Unsplash/Nik Shuliahin
Mental health surveys that are aimed at detecting behavioral changes in people can be great monitoring tools. The responses that are accumulated and results that are drawn can equip healthcare professionals and experts with the information that they need as the focus shifts to mental health again. A lack of such surveys will not only greatly hinder economic recovery but will make our mental health workers just shoot in the dark, with guesswork (or outdated data) their only tool to work with.
3. To Devise Clear, Consistent Communications About The Prevention And Spread Of The Virus
As is clear from the last point, a vast majority of Americans is anxious about the economic and health-related uncertainty this pandemic has caused. The only way to ease uncertainty and put doubts to rest is always through honest, open, and clear communication.
While WHO, CDC, and other authorities have been consistent and open in their communication, it's clear that more is needed. Mental health surveys help us fulfill this need for more information. As we ask people specific questions about what information they are looking for, the steps they consider necessary to adjust better, and what will make them feel hopeful about the future, we can get a clearer picture.
The responses will help authorities gather, compile, and communicate information that people are looking for, and that will make their lives better.
4. To Keep Authorities Updated About the Impact Of Covid-19 On Mental Health
Healthcare systems, federal agencies, employers, and other relevant experts are always looking for data on mental health. Sometimes to improve people's mental and physical well-being, other times to detect its effects on the economy and work environment, and still other times the need is purely academic.
So irrespective of the reason for your research into Covid-19 effects on mental health, the fact is timely surveys – and critical questions – will help you get the data and information that you are looking for.
The data and its analysis will help mental health professionals classify and diagnose better, suggest treatments more knowledgeably, and suggest disease management in a more informed way. For government agencies, the data helps in resource allocation, policy management, strategy and decision-making, and most of all, to 'know' what's going on with its citizens. Data on mental health also helps in ensuring that there is always updated information available for academic and research literature purposes.
Currently, there is a dearth of data regarding the impact of Covid-19 on mental health. As days progress, governments, experts, and industries will be looking for more and more information on the topic. Devising a mental health survey for your agency or business will help you fill that void and meet the market's growing needs.
5. To Strategize A Way Forward
Mental health has been proven to have a direct link to physical well-being. In economic terms, it affects our productivity, performance, and work quality. As segments of the economy resume their function, it is important to find out any emotional and mental-health concerns workers are bringing to the workplace.
Mental health surveys, especially those directed at assessing Covid-19 impacts and containing questions that ask about comparative analysis will greatly help authorities and businesses devise strategies for the future. For healthcare systems and governments, such surveys can be critical in appraising the mental state of healthcare professionals who have fought the pandemic on the frontlines.
Soon, when schools reopen, mental health surveys aimed at the psychological well-being of children will be vital in evaluating what we are dealing with and what tools are needed to help our children.
Overall, starting vigorous mental health research right now will help us strategize a way forward in an informed and educated way. It will give us the direction we need, the tools we require, and the help our prediction and analysis better.
Over To You
The Covid-19 pandemic has caused huge disruptions into people's lives: social isolation, fear of the disease, economic uncertainty, and high unemployment, among others. All this has contributed negatively to people's mental health.
With scant data available right now, experts and authorities will have a harder time determining the best way forward. The need to start researching the impact of the coronavirus on people's mental health is dire. Young people – 18 to 25-year-olds – were already at an increased risk of being depressed – and the current changes must have had an impact on them. Unless we start surveying our young people – and others, too – we will not know what those effects are and what measures are needed to address them. Lack of authentic information always leads to poor decision-making, and in current scenarios, we really can't afford that.
So, think proactively and take steps now. Devising a mental health survey is quite easy. An online survey tool can make it even more convenient.