The first warnings were sounded, back in 2011.
Tech startups such as Uber, Airbnb, and Dropbox, were receiving the adulation and applause of the market for their brilliant, tech-supreme, disruptive ideas. Using the might of technology, these handful of revolutionary businesses had forever changed how the things are done.
VCs and investors were tripping over themselves to flush these startups heavy with hundreds of millions of dollars in funding and investment. No one wanted to lose out on these nice, juicy deals.
But amidst all this frenzy, there were those that wanted everyone to calm down a little. Tech startups were being valued at maddeningly inflated rates and the cautious minds were having a meltdown.
Steve Blank, a serial entrepreneur called it the 'second Internet bubble' with signals that are 'loud and clear'. Wired magazine lamented how the 'tech bubble is pumped' but hoped that it may not burst. Washington Post was not too kind. It questioned if LinkedIn's IPO of $9 billion was the new tech bubble.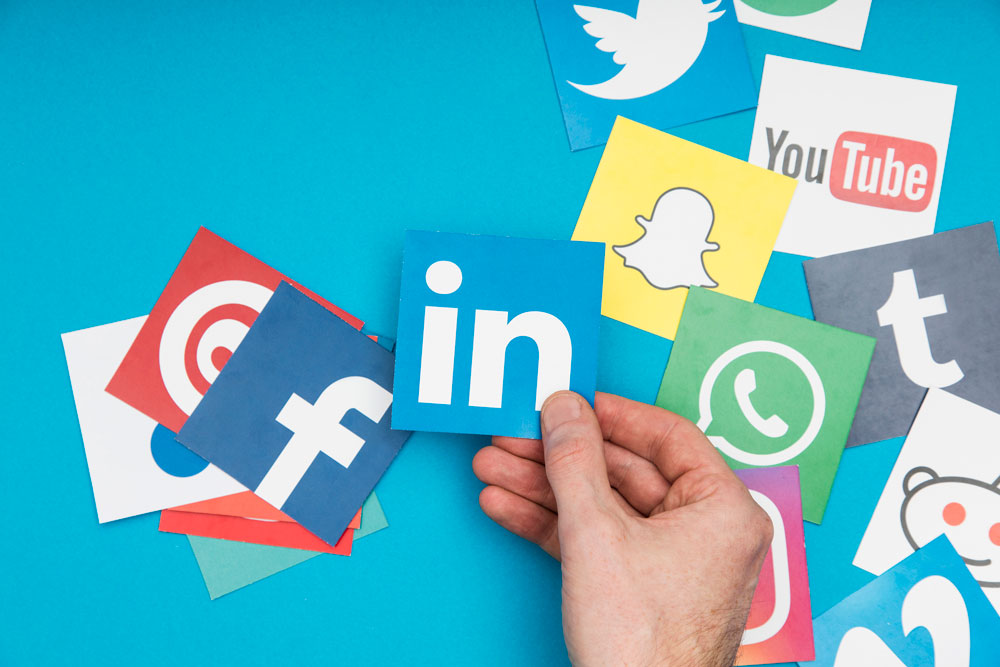 Image Source: iStock/mattjeacock
With history as my witness, I can claim that it's a bubble that never burst.
Even during the pandemic, when almost every sector of the industry almost collapsed, tech companies soared. Zoom, Netflix, Peloton – everyone benefitted from largescale lockdowns.
So, why, now, two years later when everything is getting back to normal, are we suddenly seeing tech giants of the world laying people off, installing hiring freezes, and losing billions of dollars in their valuations?
Are We Finally Going To Hear The Thing Pop?
Nobody is sure yet, but there are key indicators that point towards a looming burst:
• Stock Devaluations
On May 4, 2022, the Federal Reserve increased its benchmark interest rate to half a point, and all hell broke loose.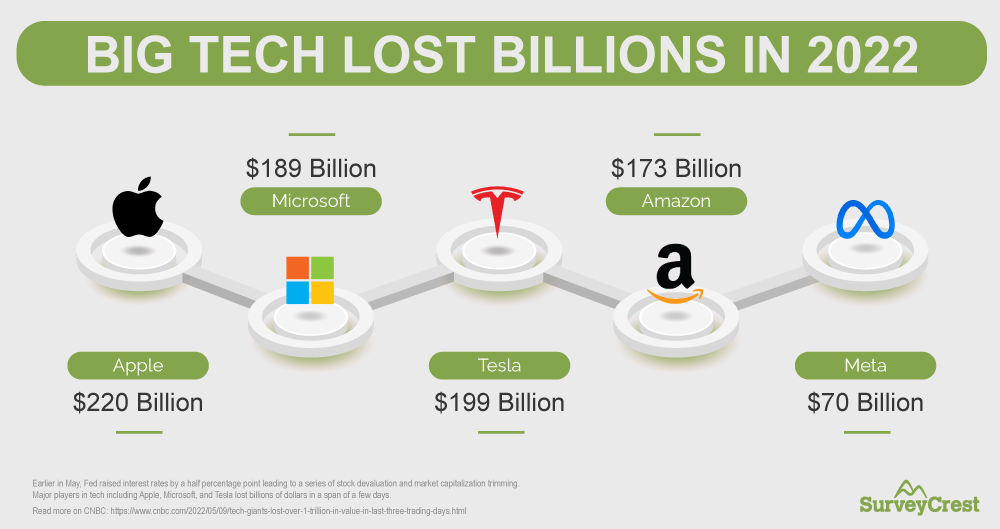 These are only some of the many Big Tech firms that lost hugely as a result of these devaluations. When that happens, it makes everyone nervous. Some of these companies responded by putting a stop to all new hiring, even rescinding already extended offers, and others went for the jugular by announcing company-wide layoffs.
• Hiring Freezes
Hiring freezes, in my opinion, get the negative rep that they do not deserve. If you look closely, a company that hits the brake on hiring new people is one that is being responsible towards its existing staff, and valuing the talent that has brought it to this height.
You can still bet on these companies for being forward-thinking without going belly-up.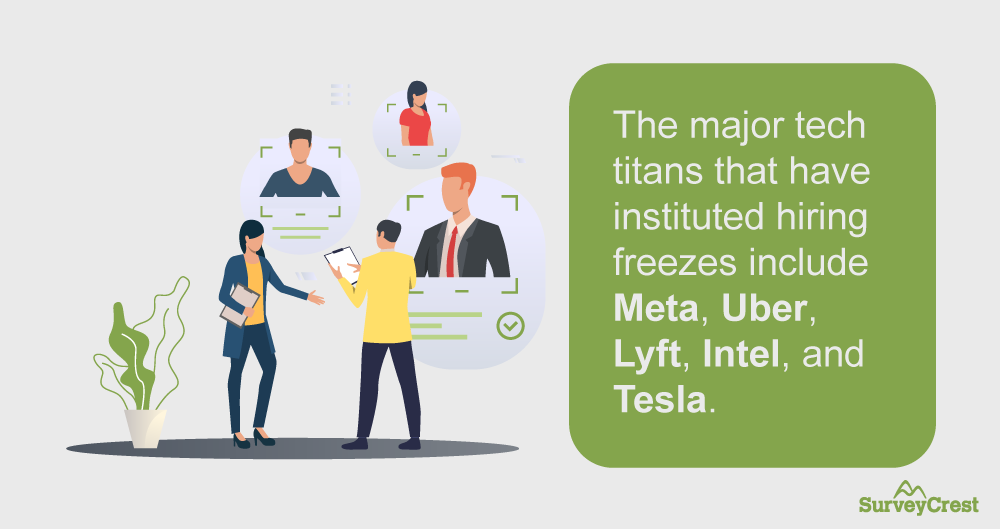 While these hiring freezes do inflict some serious reputational damage to these companies, it's better than what a totally disastrous effect it can have when you start laying off people. Something you have to when you don't stop hiring staff that you may not necessarily need.
• Layoffs
Layoffs are the worst. It leads to a depleted employee morale, inability to attract top talent in essential roles, and an internal structure that's in shambles after a huge portion of the workforce is wiped out.
Most companies tend to adopt it as the last-ditch effort.
Want to know which of the tech mammoths have made this last-ditch effort in the last couple of months?
Robinhood, Peloton, Netflix, and Cameo.
There are others, too. But these get the mention here because of their multibillion-dollar valuations that were fattened up even more during the pandemic. But with not much profits to show for, and rising interest rates, tough decisions needed to be made to cut costs and manage overheads.
So, If This Bubble Bursts, How Does It Affect You, A Tech Entrepreneur?
The biggest negative that will happen is you'll have a tough time trying to get capital for your startup. Investors will be cautious of putting money in tech, a sector that has just suffered major damage. You may have a hard time convincing them of how you plan to get your idea profitable in 5 years.
But lack of funding has never stopped a true entrepreneur ever. So, if you are in it to win it, focus on the positives.
The biggest positive that you'll be getting out of this catastrophe is this: you will face less competition.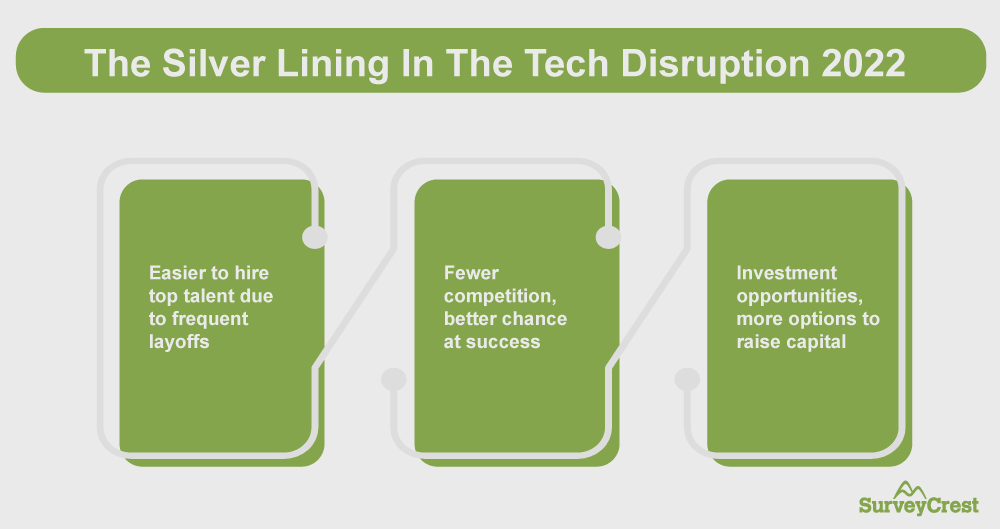 And that translates into:
• It Becomes Easier To Hire Top Talent
When companies shut down, the available talent pool expands exponentially. With the right HR strategies, some monetary benefits (signing bonuses, for example), and a great employer brand, you can attract top talent to join your vision, with more success.
• It Becomes Easier To Sell Because There Are Fewer Competitors
With less competition comes the ease of selling more. The noise dies down and consumers are better able to look at the few companies that are left. It increases not only your profits but market share, too. Incidentally, this is also a great time to fine-tune your marketing and arrive on a clear, crisp branding message that people can get behind.
This loyalty will help you stay on top as more contenders eventually return to the market.
• It Becomes Easier To Raise The Next Round Of Capital
Investors want to invest. That's what they do. When things settle down and smoke clears off, they go on a hunt to find the next big thing to fund. With a great pitch deck and a solid business plan, that next big thing could be you.
But Will This Bubble Burst? Is The Tech Bubble Ever Going To Burst?
Financiers answer it very differently than techies.
For a tech creative, the answer is a shaking-my-head, smiling-at-your-naivety 'No'.
Tech is so ensnared in our lives, so integral to how we live, work, play, entertain, and connect with each other, that tech innovations are never going to stop. Even if a few tech companies collapse, there are going to be tech geniuses that will continue to invent things.
Remember, when the dot-com boom finally flatlined, we saw Amazon, PayPal, and eBay rise from its ashes.
So, from a tech POV, things may slow down temporarily, but the tech boom is never going to go away. Tech artists will continue to invent and innovate.
Financiers, However, Want You To Be More Cautious.
Major tech companies are shockingly overvalued. With an unstable economy, a war in Europe, and rising interest rates, it does not make sense to keep fattening these puffed up companies even more, unless they start turning out profits.
This growth-at-all-cost monster must be chained and tamed, if we are to support innovative ideas for a long time to come.